WATERBURY, CT – Joe Wilcox of Waterbury was a 15-year-old high schooler when his father found him a summer job at a local Hudson car dealer. "That's where I became a Hudson nut," the 83-year-old Wilcox recalled late last year summer as he sat on a stool in his driveway. 
Behind him, four hulking Hudson models were parked on the pavement and lawn. Two were registered and roadworthy coupes – a black cherry 1949 Super Six and a blue 1953 Hornet. Lacking a license plate but in operating condition was a gold, two-door 1948 Commodore Six, while a four-door 1954 Hornet Special in gray primer was running but had a flat tire.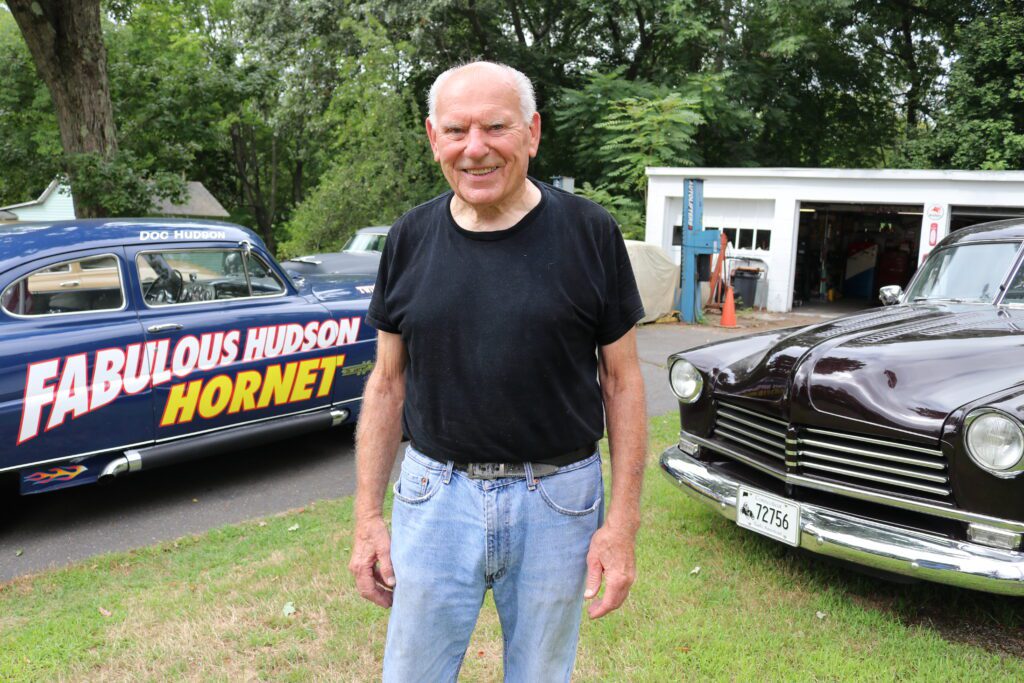 Wilcox has possessed the Super Six for 67 years. He became its caretaker at 16 when his father gave it to him for his birthday. He raced it and, more recently, customized it. "It's my favorite car. Always will be," he said.
Wilcox's connection to the brand goes back to his pre-teen years. "My father had always had Hudsons. He wasn't a professional mechanic, he was a backyard mechanic. He always had a Hudson apart and I believe when I was five, six years old, I was under the Hudson with him," he said.
"I grew up with Hudsons. Every weekend we'd have a Hudson apart and I'd do this, I'd do that. I'd clean parts. I'd clean the wrenches and hand him the wrenches, and I just became a car freak."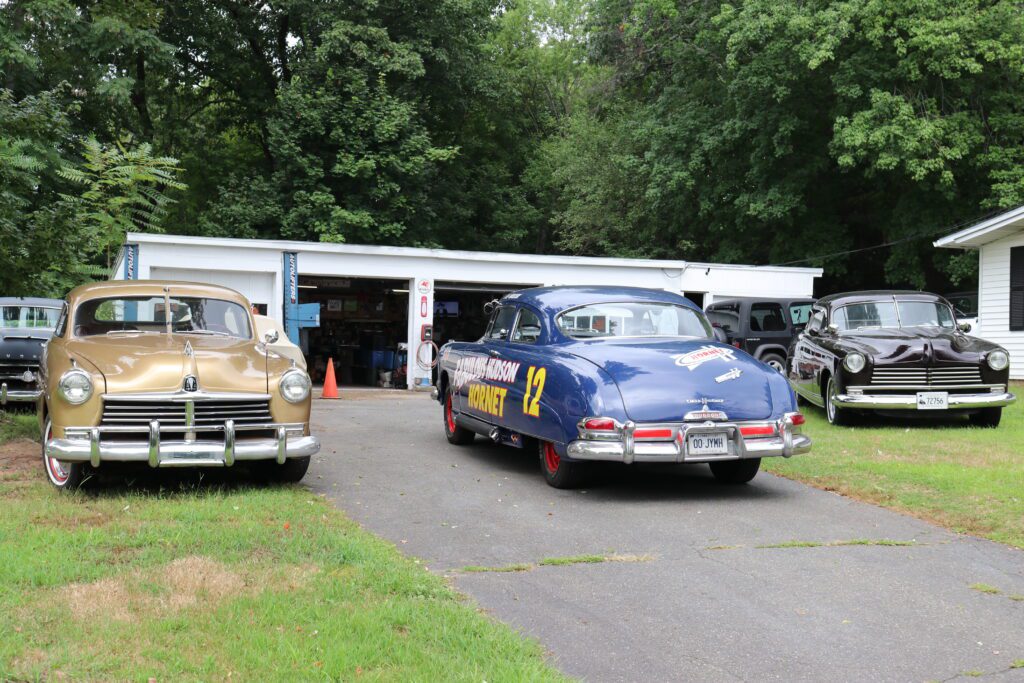 Wilcox's obsession has yet to fade. The five-door, six-bay garage behind his home is filled with the vintage Hudsons. It also contains a 1968 AMX two-seater from AMC that comedian Jerry Seinfeld leased in 2014 and drove in an episode of the TV show "Comedians in Cars Getting Coffee."
A 1978 AMC Matador and 1946 and 1947 Hudson pickups are stored across the street. In the woods behind his house are seven relics; a 1954 Hudson Hornet and six AMC models, including two Pacers.
Hudson is a largely forgotten brand that dominated NASCAR in the early days of organized stock car racing. Hudson Hornets won 27 of 34 races in 1952, and Hudson drivers won the NASCAR championship in 1952, 1953 and 1954. Success was short-lived, though. Hudson merged with Nash-Kelvinator to form American Motors Corp. in 1954. The brand name only lasted through the 1957 model year.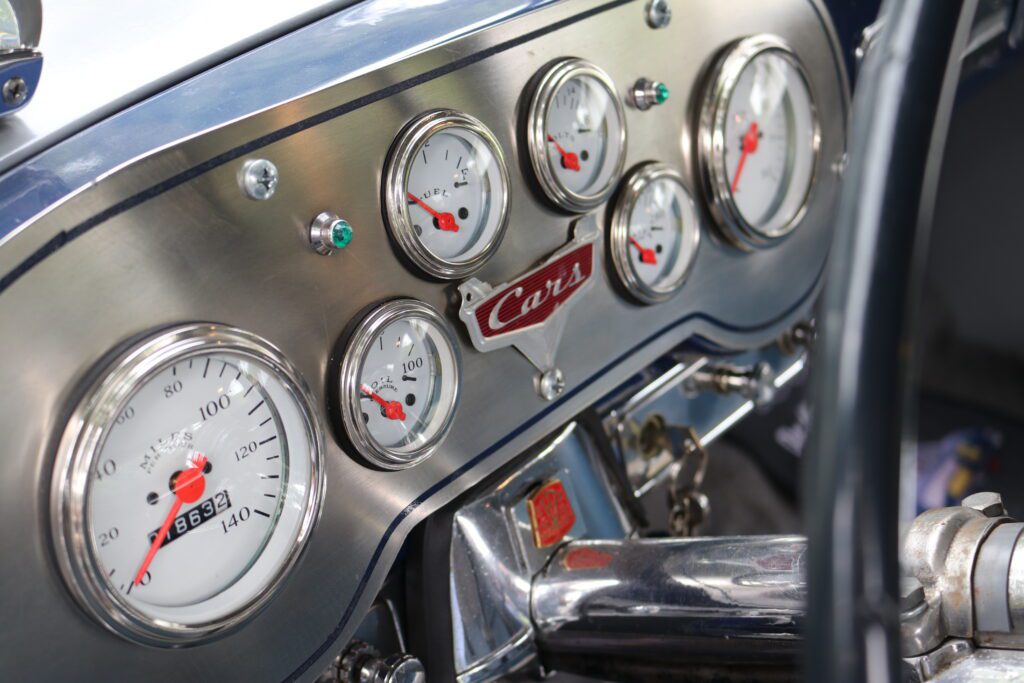 Hudson's prominence in NASCAR got recalled in Pixar's animated film "Cars" in 2006. Actor Paul Newman provided the voice for "Doc Hudson," a Hornet stock car model based on the "Fabulous Hudson Hornet" driven in the early days by Herb Thomas.
Wilcox has created a real-life version of Doc Hudson, complete with livery, a "Cars" logo in the dashboard and a "Piston Cup" trophy. He acquired a "totally rotted away" donor Hornet from New Hampshire about 10 years ago and spent five years restoring it.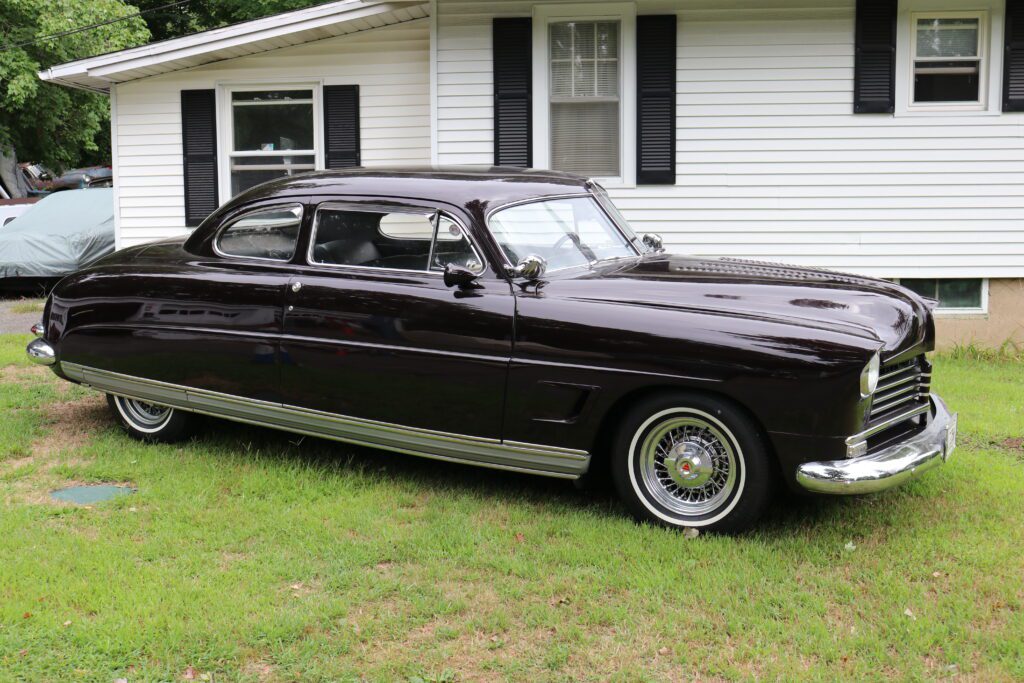 "It was sittin' out in back of a barn and it was sunken into the dirt, but it was all there. The engine was in it with the drive train, all the interior, so I towed it home. It sat in my yard for about a year," he said. The Hornet is often driven to car shows where it thrills youngsters. 
It was after completing high school that Wilcox went to work full-time for the Hudson dealer, J.W. Moody Motor Co. That was in 1955 and he ended up staying until 1990, working on Hudsons at home in his spare time after the brand disappeared. More Hudsons have come and gone than he can remember.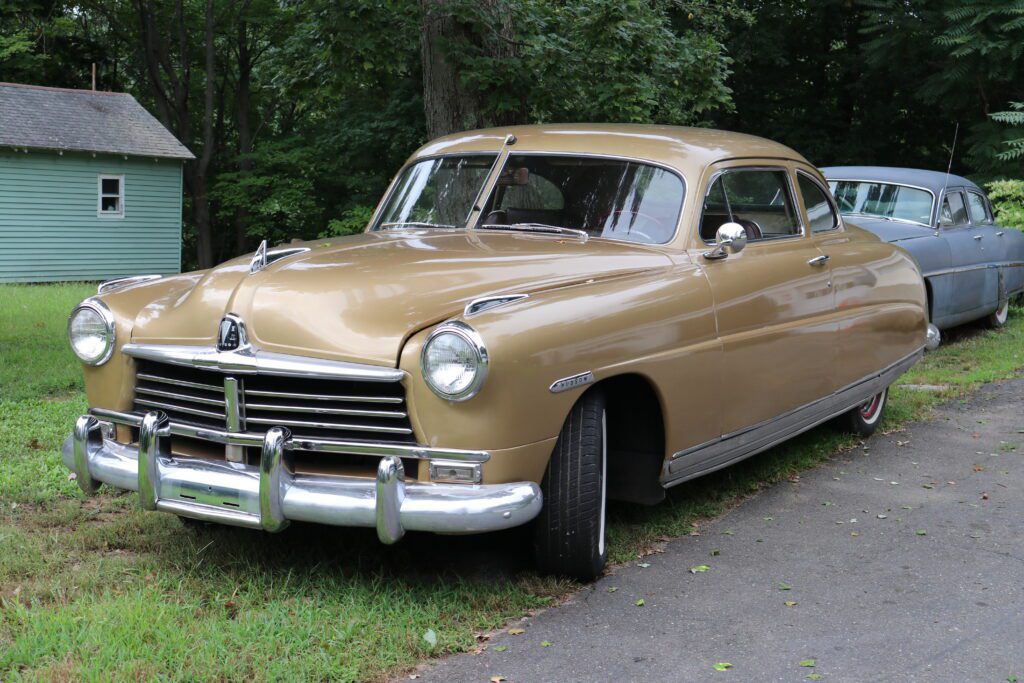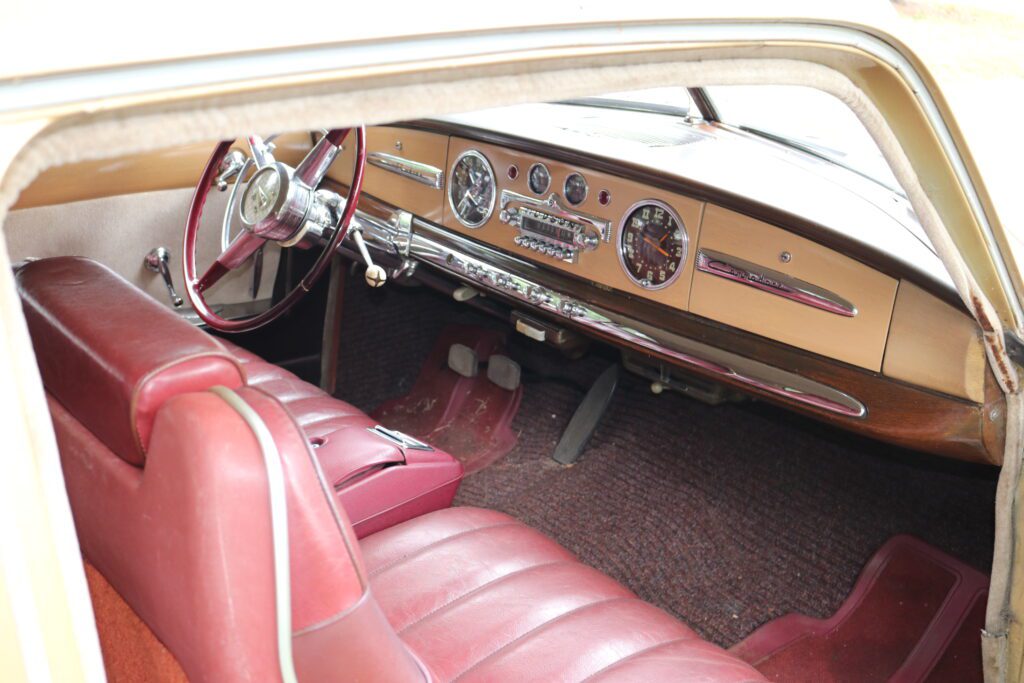 "I can't count 'em. I worked for the Hudson dealer and we would take Hudsons in on trade with blown engines or with wrecks or something, I would buy 'em, bring 'em up here, restore 'em. I bet I've had at least 500 Hudsons during my lifetime," he said.
Hudsons were known for performance and safety, and for such innovations as step-down design which enhanced handling. "The floors are recessed and the chassis is right on the ground," he said. "They handle better than any car on the road." 
The step-down design provided a "low center of gravity. That's why they won all the races. They flew. They would go around corners like nothing else will go around corners."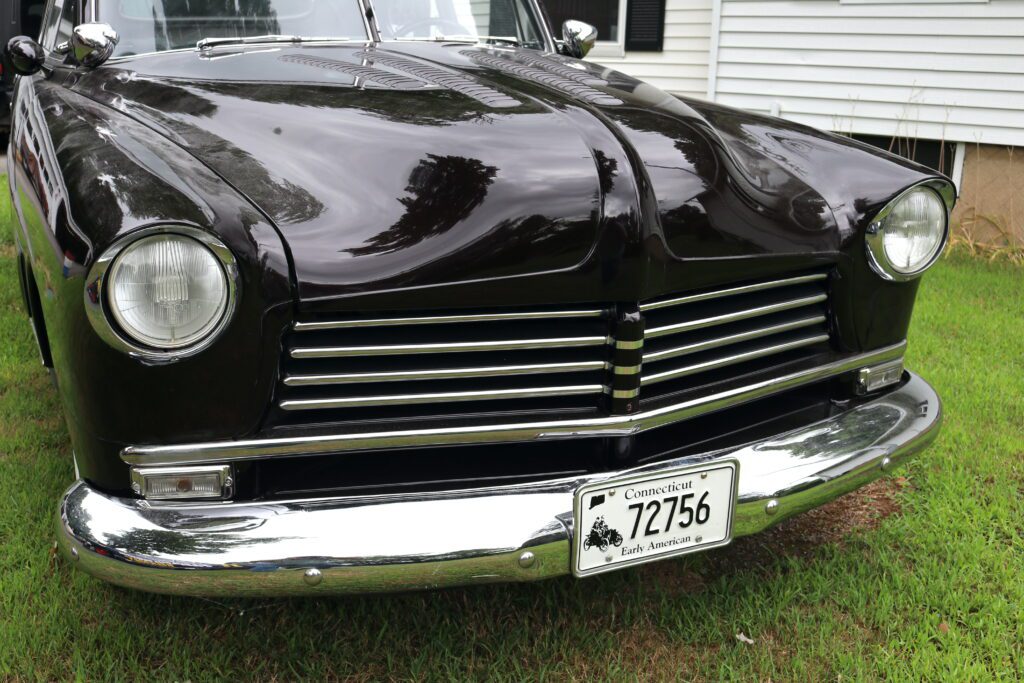 Wilcox's Super Six no longer resembles the car that he got at 16. He's tinkered with it over time. "I put a Hornet engine in it. I drag raced it. I had a lot of fun with it," he said, reporting racetrack success at West Haven Speedway, Plainville Stadium, Riverside Park Speedway and Stafford Motor Speedway.
The Super Six got parked in 1985 and sat until 2000 when Wilcox decided to customize it. That job took until 2007. He extended the hood and added louvers. He also installed Chevrolet headlights, Mercury tail lights, Lincoln push-button door handles, and scoops from a Chevrolet Camaro on the fenders.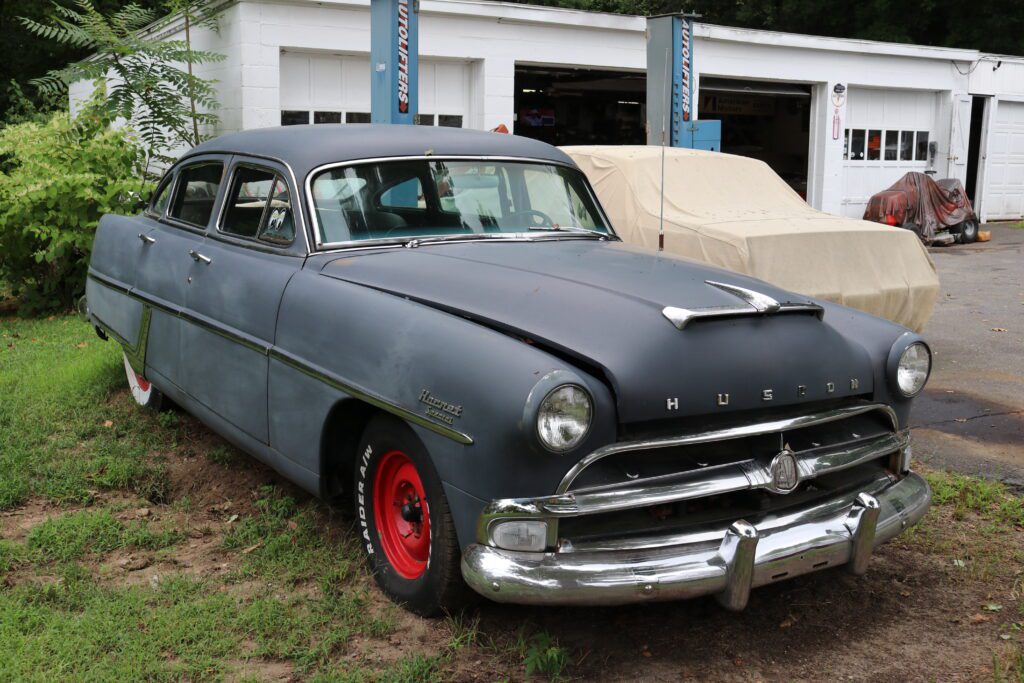 Wilcox's Hudsons draw attention when he takes them to car shows, although many spectators don't recall the brand, which became a victim of evolving consumer tastes and out-of-touch management.
"Hudson didn't change. They had a lot of performance. They were a safety car, but they were also six volt, and they never changed," said Wilcox, whose durable Super Six, speedy Hornet and luxurious Commodore Six are identical body-wise; big and unwieldy. "They never changed the body style. They came out with that new body style in '48 and they kept that body. People just got sick of 'em."
Except for Wilcox, who lovingly provides a haven for Hudsons.
Joe Wilcox talks about his Hudsons in this RIDE-CT video…