MORRIS, CT – David Coté describes his MG – a two-seat 1967 MGB sports car – as a "bottle rocket," at least when compared to the 1966 MGB that preceded it. With its British racing green exterior and tan interior, it looks showroom new. It also has a beckoning exhaust sound generated by a 1,798cc, four-cylinder engine.
Coté traces his affection for the iconic MGB to his father, who owned one years before he was born. The model was produced between 1962 and 1980, and more than a half-million were built. The success of the MGB (and other British roadsters) helped inspire Mazda to launch the still-made Miata a decade later.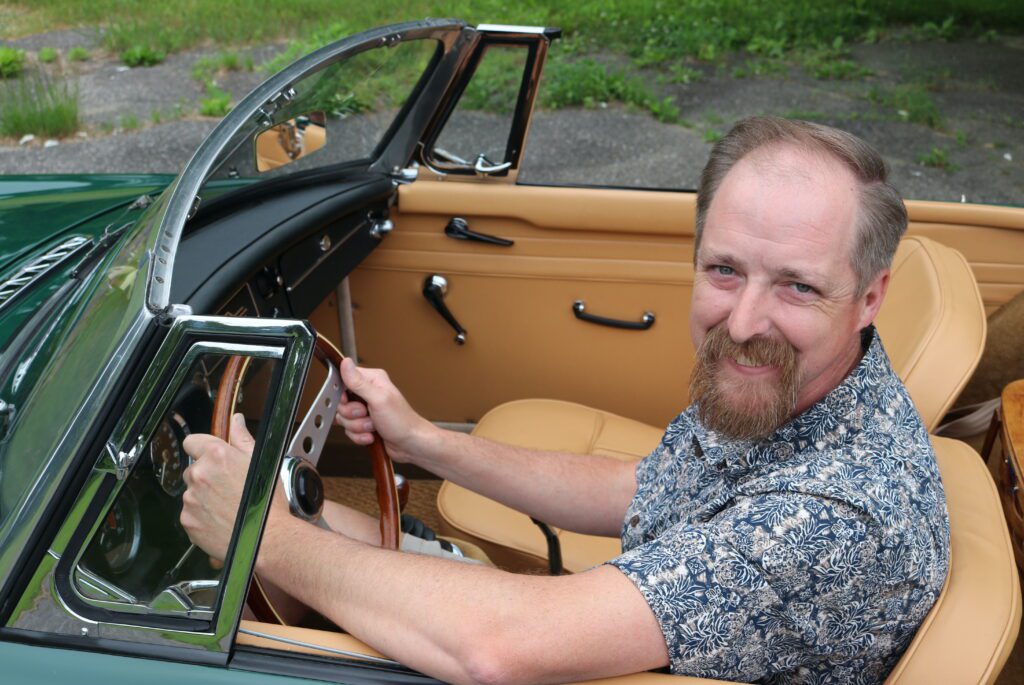 "When I was a kid growing up, my father always told stories to my brother and I about his car. He had a '68. I had always wanted one because he had always said, 'You've never driven a car unless you've driven a car that the motor displacement is in CCs.' From that point on I knew I wanted one," he said.
His father's memories of the MGB proved immutable and worthy of replicating, despite the reputation for shoddiness that dogged British cars of that era. "He always said it was in the shop more than it was on the road," Coté recalled.
"I never got a chance to see it. I've seen tons of photos of it and I've heard all the stories, all the crazy stuff he did when he was younger than me and fresh out of the service."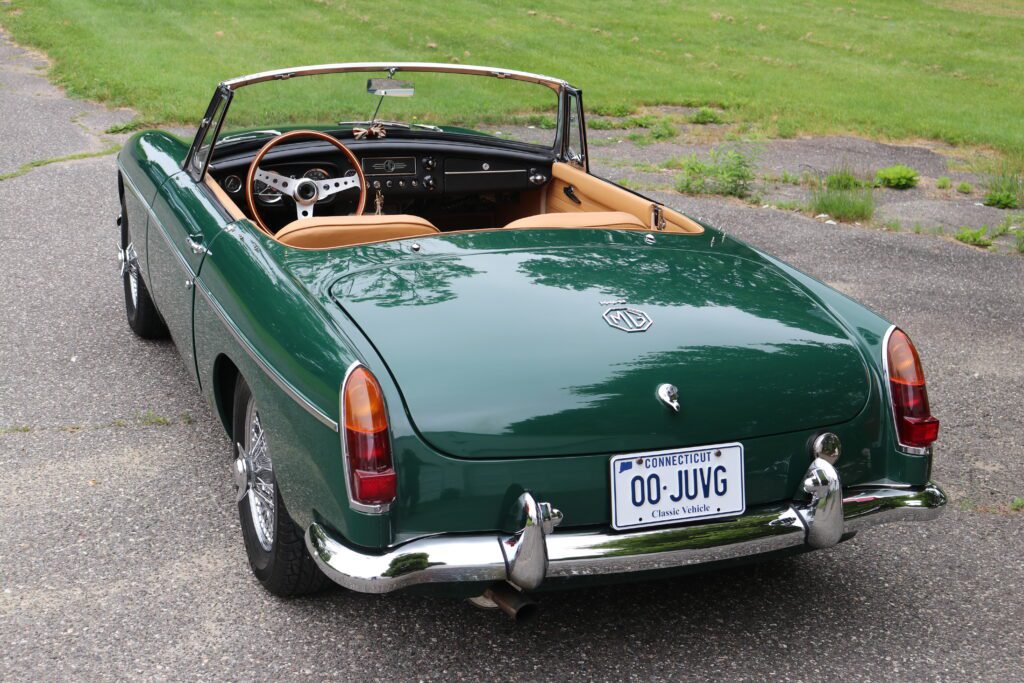 Coté's initial search for an MGB resulted in the '66 model. "The very first car I had was white with a red interior, and I absolutely loved the car. It had a white top and everything, but I wanted this," he continued, referring to his current model. The white one got sold in early 2018 and replaced shortly thereafter by the newer one.
That first MGB served its purpose, though. "When I took my first one for a ride, I was hooked. I was absolutely hooked. Absolutely," he said.
It was four-plus years ago that he learned that a friend in Pennsylvania was restoring a '67 model. It had been painted black but was undergoing a color change. "I kinda coaxed him into selling it to be honest with you. I ended up grabbing it from him and he finished up a whole bunch of work that he wanted to finish on it."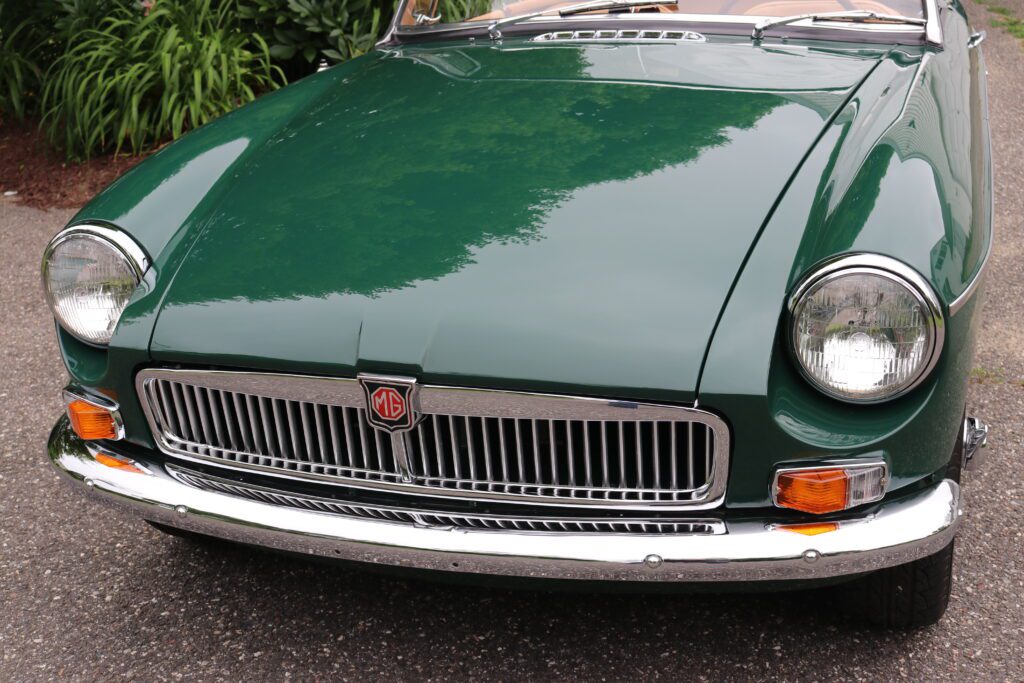 The job took a year. "I helped him finish up the carpet. I did the rest of the interior, the wheel, and then finished up all the motor work and did a little more underneath the car. Obviously it's a British car so there are some issues."
With the restoration job in the rearview mirror, Coté is enjoying the MGB. "It's done. Right now it's just maintenance. It's back to 100 percent stock. There's no real aftermarket products; just some really small things to make life a little bit easier once you're driving."
Well, it's nearly stock. To give the MGB a bit more pep, Coté had the cylinders bored. Larger carburetors from an Austin-Healey 3000 were added, too, as well as a five-speed transmission from a Datsun 280Z. "This car in comparison to my '66 that I had is night and day. This is a bottle rocket by far," he said.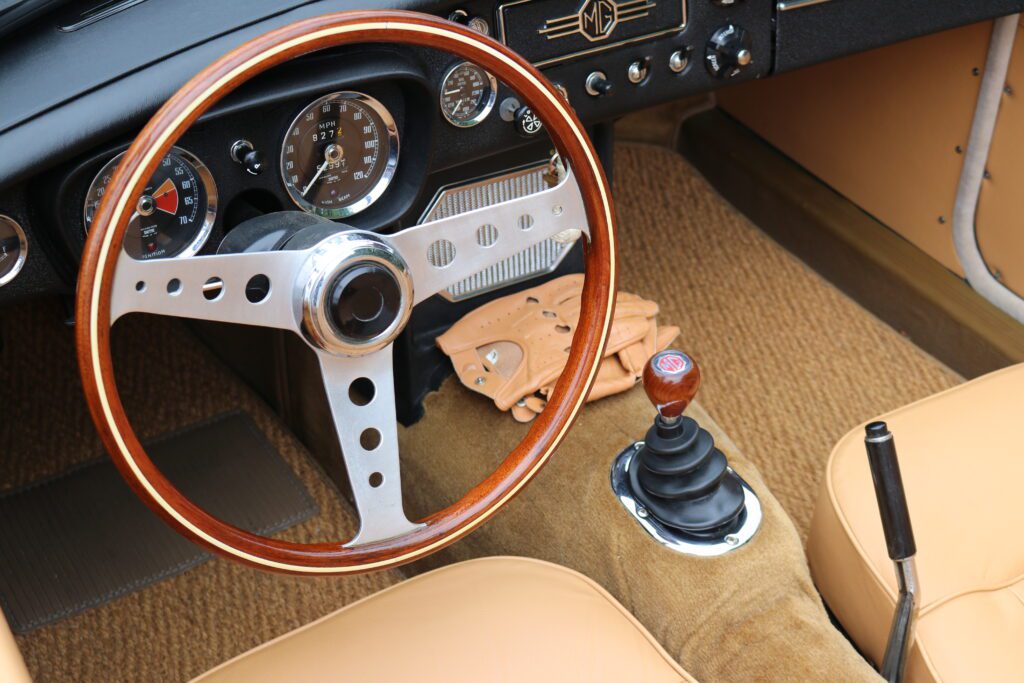 Coté has added all sorts of elements to help the MGB proclaim its heritage. There's a Union Jack bow tie tucked on the dashboard against the wind screen. Behind the seats is a wicker picnic basket adorned with an MG logo and Union Jack. There's also a British pillow, British flags and MG blanket to display at car shows.
What stands out most is the car's alluring British racing green color, paired with the tan interior. "It's amazing having someone from the U.K. come up and just say, 'That's the car. That's the epitome of what the British color combo should be,'" he said.
See the 1967 MGB in action in this video from RIDE-CT's YouTube channel…