EAST HADDAM, CT – When the 2024 Chevrolet Silverado Custom Trail Boss crew cab model with "Red Hot" exterior paint arrived recently, I took it rather nonchalantly. After all, visually tricked out pickups like this are now the norm, not the exception. 
It came with 20-inch black alloy wheels with knobby all-terrain tires, blacked-out grill, two-inch lift kit with trick suspension bits, and bold badging, such as "Z71." It also displayed imaginative additional graphics for being a Trail Boss model. 
Meanwhile, the window sticker – also known as a Monroney label for the U.S. Sen. Almer "Mike" Stillwell Monroney of Oklahoma who sponsored the bill in 1958 that required automakers to disclose certain vehicle details – was routinely loaded as well. 
 I can't believe I'm saying this, but imagine my astonishment when the sticker read only $53,410?
Prices from $70,000 to more than $75,000 are not uncommon these days for full-sized, premium pickups, so my thought was, "So what gives?"
I then opened the hood. Despite that fact that there was a gnarly, black power bulge applied to the top of it, languishing beneath was a mere 2.7-liter four-cylinder engine. Surprise! 
They say you can't judge a book by its cover. With all the recent advances in electronic control and engineering management, you can't judge an engine by its cylinder count, either, so I decided to keep an open mind.
For 2024, Chevrolet refers to the 2.7L as the "TurboMax" having formerly simply called it the High-Output engine. It provides 310 horsepower and 430 lb-ft torque and is mated to an 8-speed automatic transmission. In addition to the dual duct (volute) turbocharger, it has direct fuel injection with 10:1 compression so it can be a little growly. It has 4-valves per cylinder, with twin cam variable valve timing.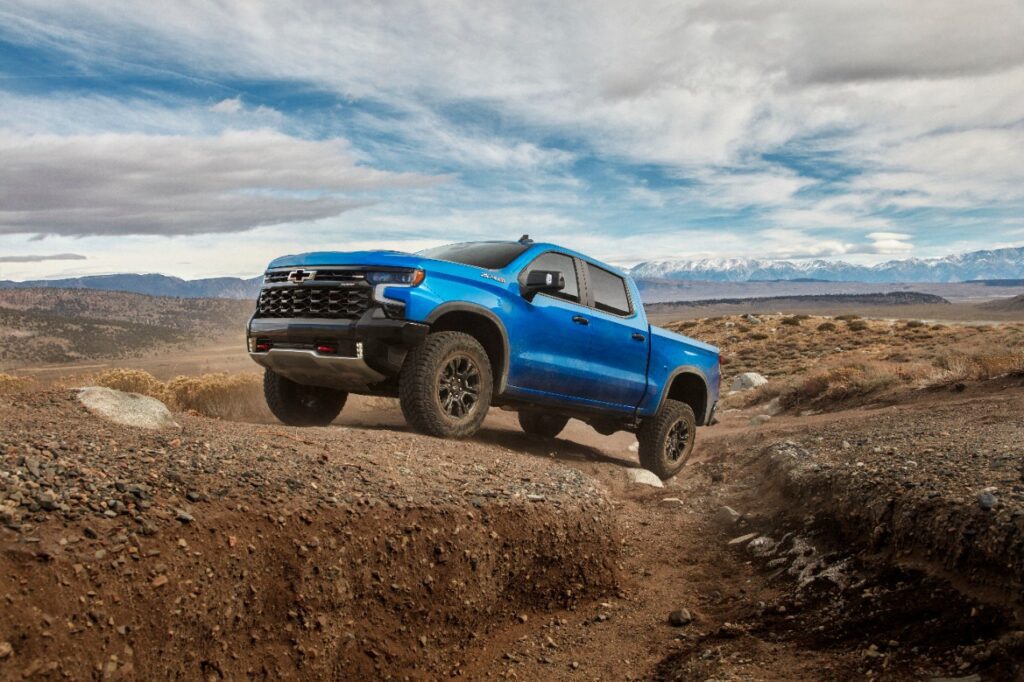 The small engine is rated to tow 9,000 pounds, which is certainly plenty for the average weekend warrior. And I can confirm that it's got enough punch to live with day-in and day-out. (The Silverado can also be purchased with a 3.0-liter six-cylinder, a 5.3-liter V8 and a 6.2-liter V8.)
The Silverado is available in regular cab, double cab and crew cab versions. With bed sizes ranging from 5-feet, eight-inches to eight feet, the Silverado weighs from 4,410 to 5,070 pounds with the small engine.
Gas-wise, the 2.7L delivers 17 to 19 miles per hour city and 18 to 22 highway. The only thing missing is that oh-so-familiar and confidence inspiring American V8 engine rumble. But the in-use results speak for themselves, because it confidently goes as it needs to.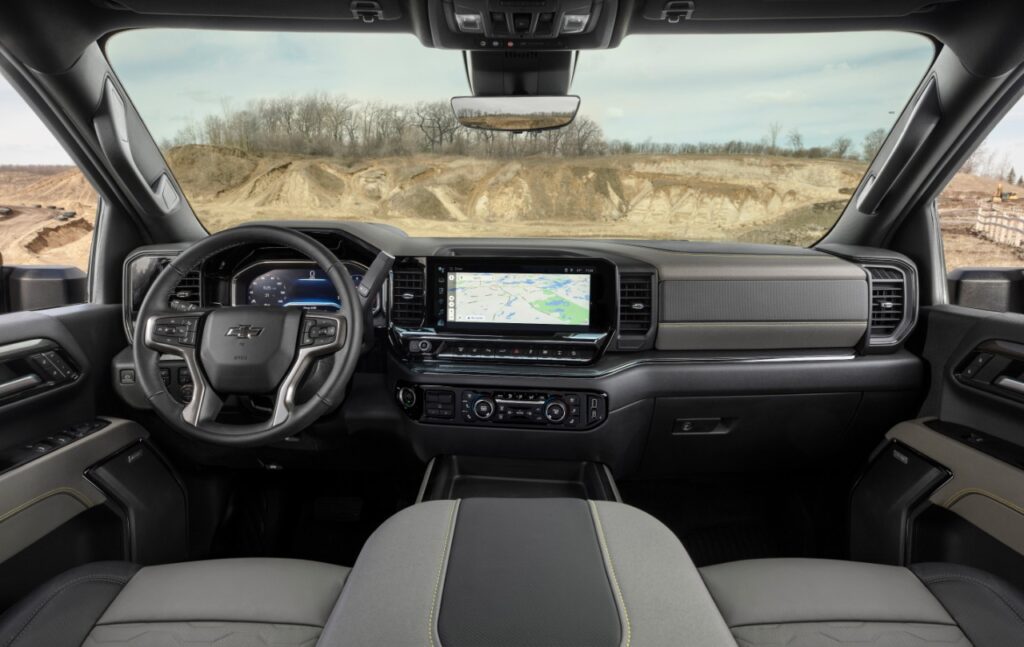 Another concession with my Z71 – which refers to an accessories package, not a trim level – had a rather low-spec interior. Jet black cloth seats were accompanied by a hard-to-see manual climate control system and a diminutive, seven-inch touchscreen with basic radio functionality. 
To my mind that set-up contributed to a bit of driver distraction because other than the cruise control, there were no other switches on the steering wheel; thereby requiring constant eyes-off-the-road radio tuning.
And while that wheel had up and down adjustment for height, it couldn't be moved in and out for reach. Despite the added ride height, there were no step plates or side rails to help get in and out of it, either. 
Sorry, I think that's a little too much penny-pinching.
The Silverado was fitted with Chevrolet's optional Multi-Flex tailgate, a spray-on bedliner, CornerStep rear bumper, auto locking rear differential, skid plates and more. Perhaps this test model was a bit of a unicorn – a mixture of upscale features on the surface and downgrade specification below the skin and inside in the interest of achieving a price point.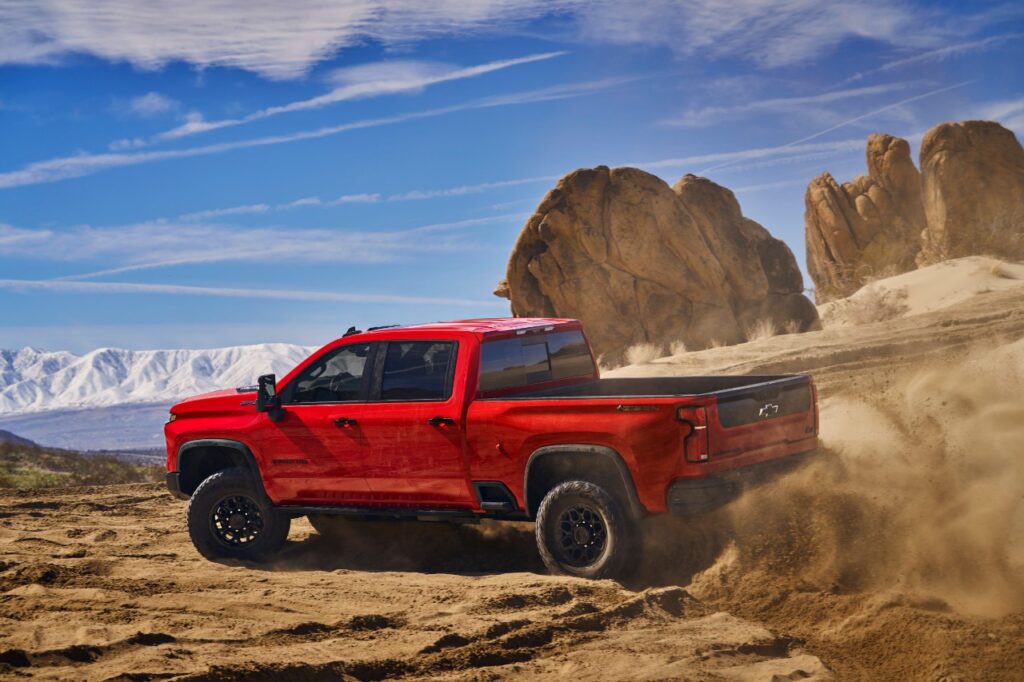 Getting back to the window sticker itself, that included a bit of ambiguity, too. I certainly have never seen such credits applied as "2.7L TURBO HIGH-OUTPUT ENGINE -$1,500, NOT EQUIPPED WITH REAR USB PORTS -$25; NOT EQUIPPED WITH STEERING COLUMN LOCK -$50; ALL-TERRAIN TIRES -$200."
Isn't car buying complicated and confusing enough?
In the end, yes, the Chevy Silverado was a surprise. But for the most part, it was a pleasant one. It proved that an ultra-modern four-cylinder engine in a full-size pickup is nothing to shy away from. And, depending upon your budget, it also demonstrated that simultaneously, you might not want to scrimp on creature comforts if you're going to live with it for the long haul.
(Photos courtesy of Chevrolet unless otherwise noted)