HARWINTON, CT – Nathan Kosak didn't learn to drive as a teenager on what was then his father's 1956 Chevrolet Bel Air convertible. It wasn't until a prom approached during high school that his father finally allowed him to get behind the wheel of the stunning yet subtle "Tri-Five" model.
"I ended up taking it to my junior prom. We had to do some practicing in it before he would let me take it. It has a ratchet shifter in it, which is a little bit confusing to use, so I had to do quite a bit of practicing on it before he'd let me take it," the Harwinton resident recalled when RIDE-CT visited his home last spring.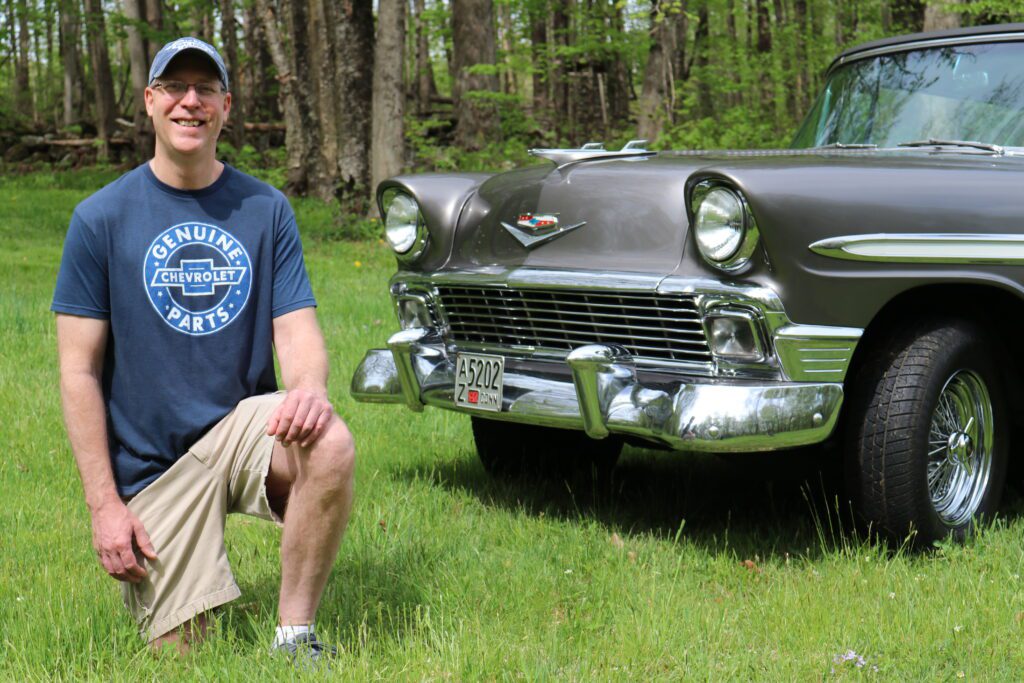 The visit just happened to be the morning after the Chevy had done prom service a second time; this time carrying his son Ryan and his date. "Unfortunately, he wasn't able to drive it. Insurance wouldn't cover him so I had to chauffeur him…," Kosak said.
The Bel Air also served as limousine when Kosak married his wife, Marcy. On that occasion, his father assumed the role of chauffeur from the church to the reception at the Farmington Polo Club. It got parked under the porte cochere until it was time for taking pictures.
"He had to pull it up probably 50 feet or something like that, so, of course, he had to smoke the tires up and left two big, huge black strips right at the Farmington Club. I thought we were going to get kicked out, but that was just my dad," Kosak said.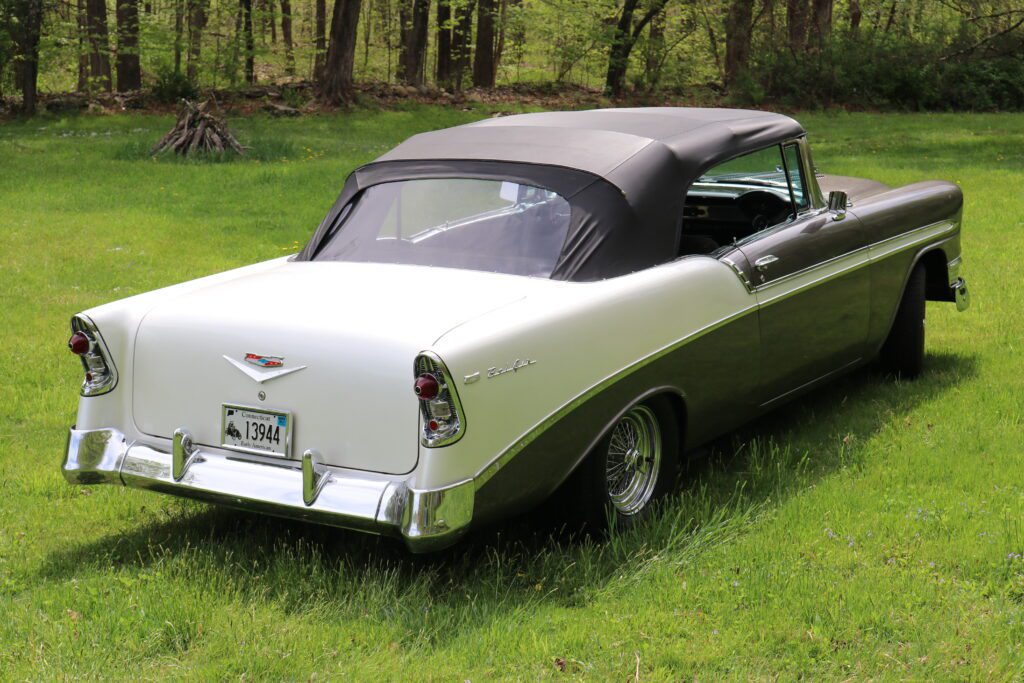 His father purchased the car used in 1963. "My father bought it when he was 18. He was the third owner. He drove it right after high school. He was into hot rods and racing. He put different engine in it and he raced it for a few years both at the track and on the street."
Kosak recalled the Bel Air got "several paint jobs on it. He did a restoration. He louvered the hood." It's the louvered hood and the ghost flames in the paint atop the hood that subtly accent the 66-year-old, gray and white Chevrolet.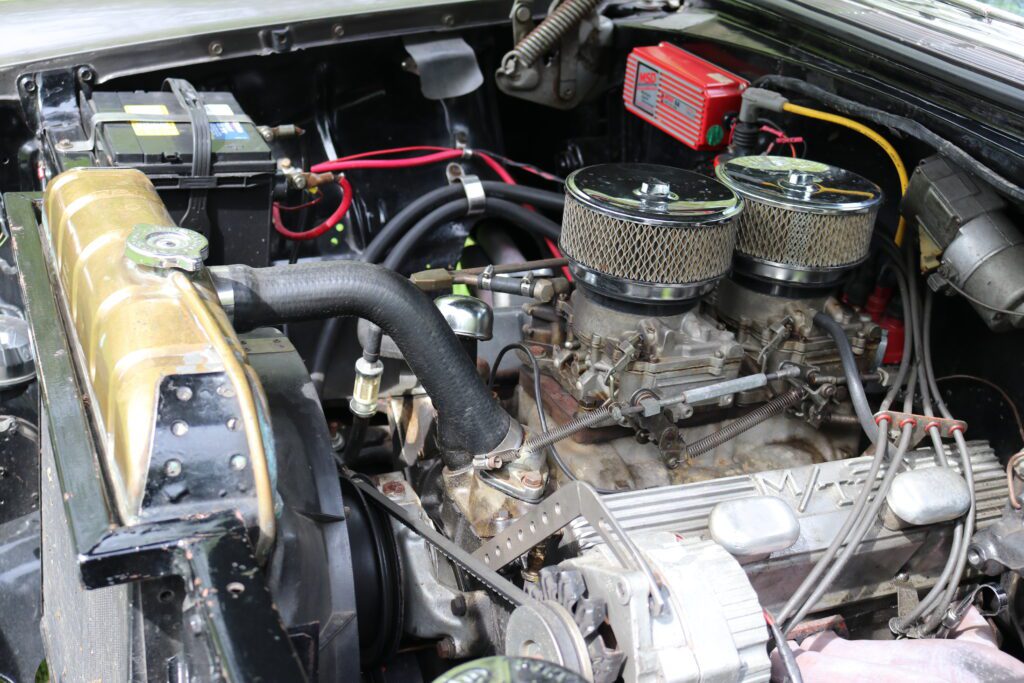 The car is powered by a 400-cubic-inch small block Chevy V8 engine and has a four-speed manual transmission and, as Kosak mentioned, ratchet shifter. While a traditional gate shifter requires that the shifter lever be moved to enter a gate for whatever gear is needed, a ratchet shifter – primarily used in drag racing – can only get pulled back or moved forward to change one gear position.
"The thing rides really well, believe it or not. Because it's such a big, heavy car, it floats quite a bit. It still has drum brakes on all four (wheels). No power steering. It's got a racing clutch in it so you need a strong leg in order to put the clutch in. It's not easy to drive," said Kosak, who assumed ownership of the Bel Air when his father passed away two decades ago.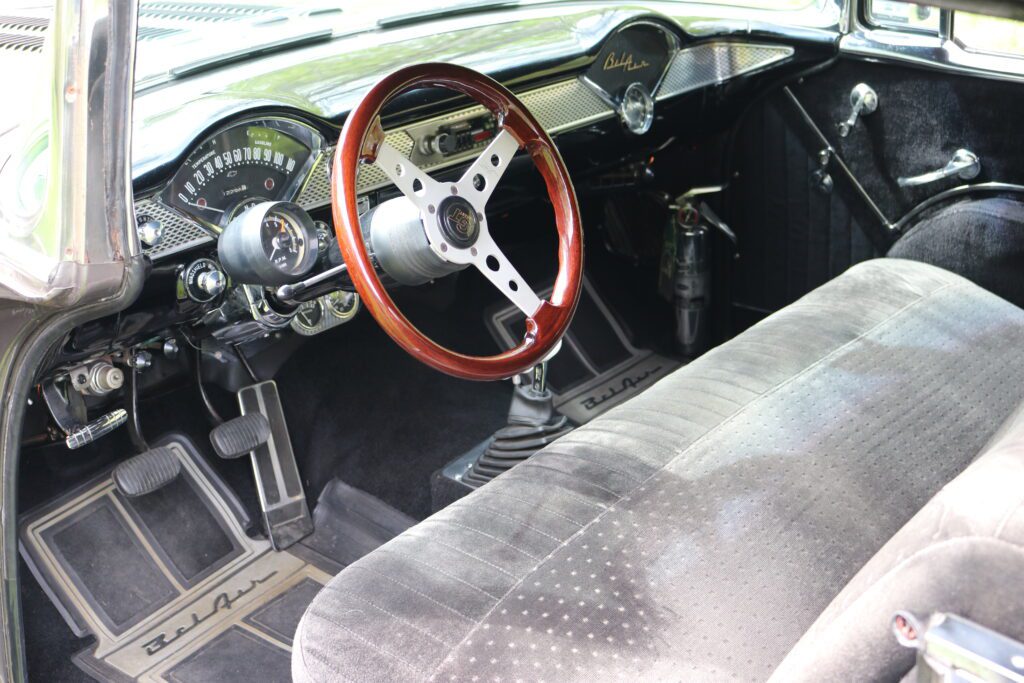 "I inherited it from him and kept it ever since. It's pretty much in the same condition that he had it in," he said. "It's always been garaged. He never drove it in the wintertime. He would always buy a crasher to get him through the winter to go to work and stuff, and then this was his baby he would just take out on the weekends."
Chevrolet's "Tri-Five" models are the brand's best remembered offerings from the 1950s. Built for the 1955, 1956 and 1957 model years, the 1957 is the most revered because of its tail fins. The Bel Air was Chevrolet's top trim line and 104,849 were sold during the 1956 model year. The MSRP on the convertible with a V8 motor was $2,443.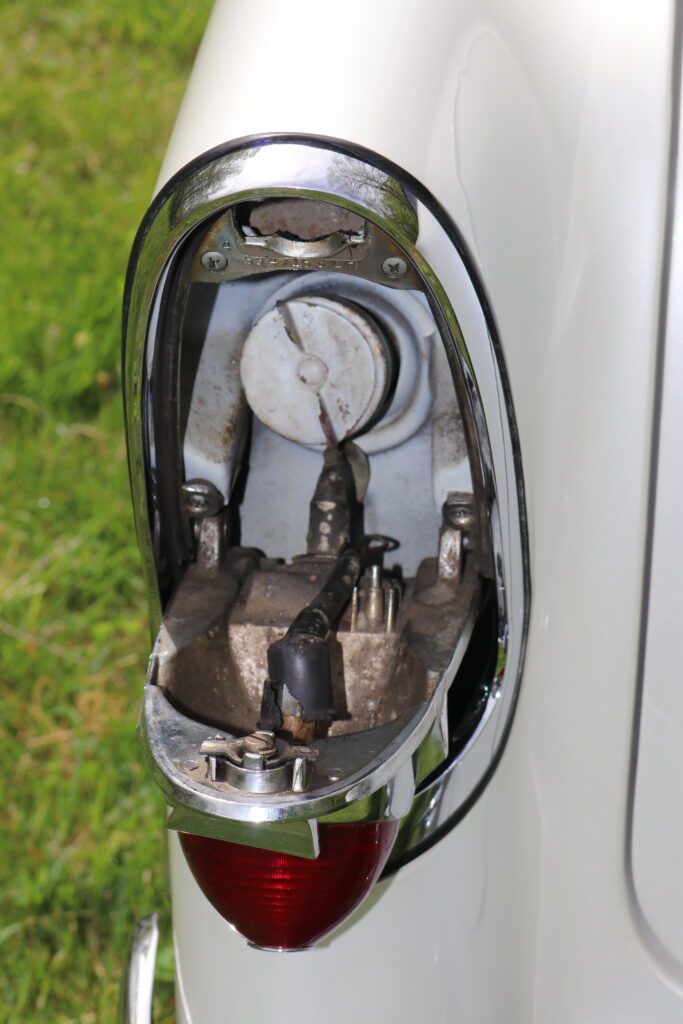 While his father raced the car at Lebanon Valley Speedway in West Lebanon, N.Y., Kosak has treated the Bel Air more kindly. "Besides just smoking 'em up, that's about it. Nothing too crazy," he said.
Kosak doesn't recall what his father paid for the Bel Air and has no plans to sell it. "It was handed down to me. I'm hoping I can hand it down to one of my boys to keep it in the family for the next 40 years," he said.
See the Bel Air in action in this RIDE-CT video…
Subscribe to RIDE-CT's YouTube channel for more videos of classic cars.