NEW HARTFORD, CT – Paul J. Cerruto got his final wish. Given six months to live in June 2022, he got a whimsical 1959 Jeep Surrey in two-tone pink restored. He even took his final project to two car shows before succumbing to cancer at age 70 on Dec. 1. 
The distance it got driven in the five years that he owned it could not be measured in miles, though, rather in yards.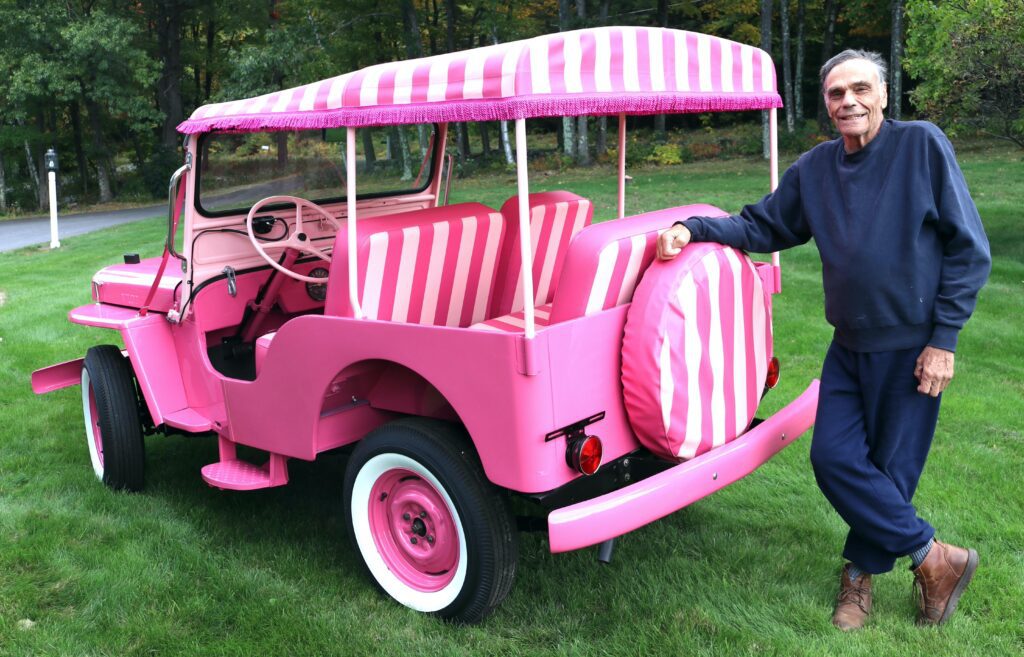 When RIDE-CT visited him at his home in New Hartford, CT back in mid-October, the Surrey had been running for just a week. It had only been driven it on his property and in a driveway at Connecticut Junior Republic in Litchfield to collect a trophy at the Cars for Kids Automobile Show where it been trailered.
Unlike the horse-drawn carriage in the Rodgers and Hammerstein song "The Surrey with the Fringe on Top" from the musical "Oklahoma!," the wheels on Cerruto's Surrey weren't yellow, the upholstery wasn't brown and the dashboard wasn't genuine leather.
No, this Surrey was spectacularly pink. Jeep built the model between 1959 and 1964.
Cerruto first spotted the Surrey when attending a car show in Hershey, PA with his twin brother, Peter. A picture of it was posted on a board inside a tent by its then-owner from Maine. "And me, like a knucklehead, starting looking at it thinking challenge, challenge, challenge," Cerruto recalled. "No seats. Where am I going to get this? How am I going to do that?"
A deal was struck and the Surrey was pulled out of the woods in Maine. "I dragged it home, did some research, found out that nobody really knew a lot about 'em. They only made 1,100 of 'em and there were only a few gurus in the hobby that knew about 'em," he said.
Cerruto spent his life restoring vehicles. He started when he was 16 years old; first on Model A Fords. He then progressed to military Jeeps from World War II. He's also done a pre-war Jeep prototype and a command vehicle as well as a 1965 K-code Ford Mustang GT, which sat in his two-story barn/shop behind his house. The "K" designates that the pony car has a special 289-cubic-inch V8 engine.
"I did it 'cause I loved the work and how they came out. Once they're done, I never used them," he said.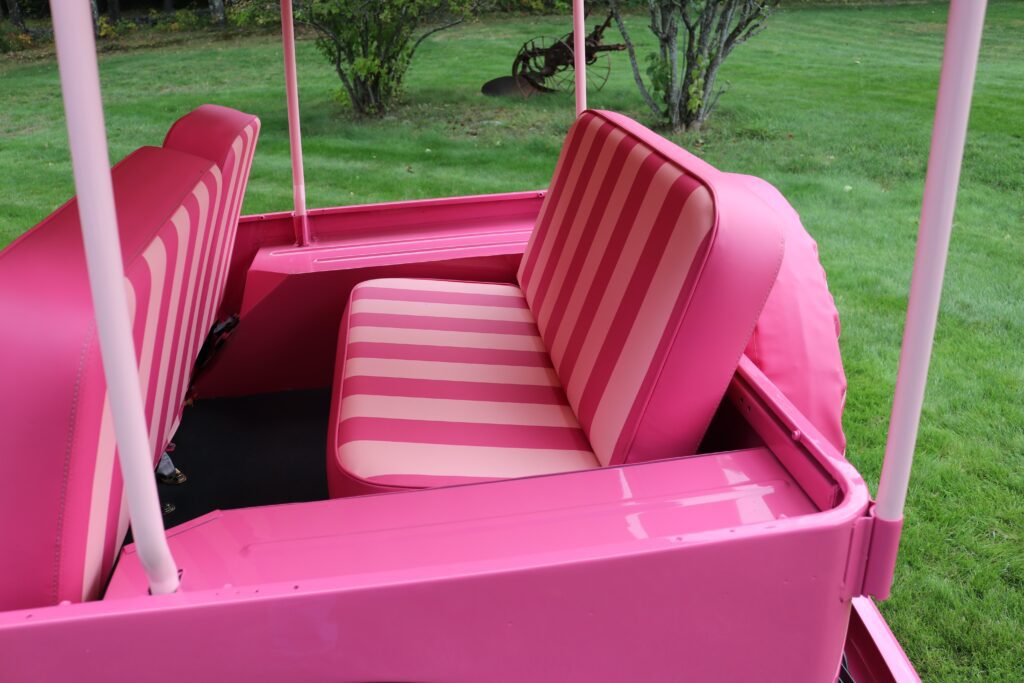 Cerruto first became aware of the Surrey maybe 50 years ago. "The first one I ever saw was at Litchfield Fuel. They had one. They used to drive it in the parades and such," he said. "We used to laugh, 'Who the heck would ever want that stupid thing?'"
The Surrey was based on Jeep's flat fender DJ-3A Dispatcher model that was originally used by the U.S. Postal Service. The Kaiser-Frazer car company had purchased Jeep-maker Willys-Overland in 1953 and Henry Kaiser, who had co-founded Kaiser-Frazer in 1945, wanted a Jeep model that could be used by a car rental agency and a hotel that he owned in Hawaii.
The colorful Surrey was the answer. It came in three two-tone color combinations – pink, blue and green. "The blue ones are pretty rare. They're pretty ugly. I think pink is the nicest looking one out of all of them," Cerruto said.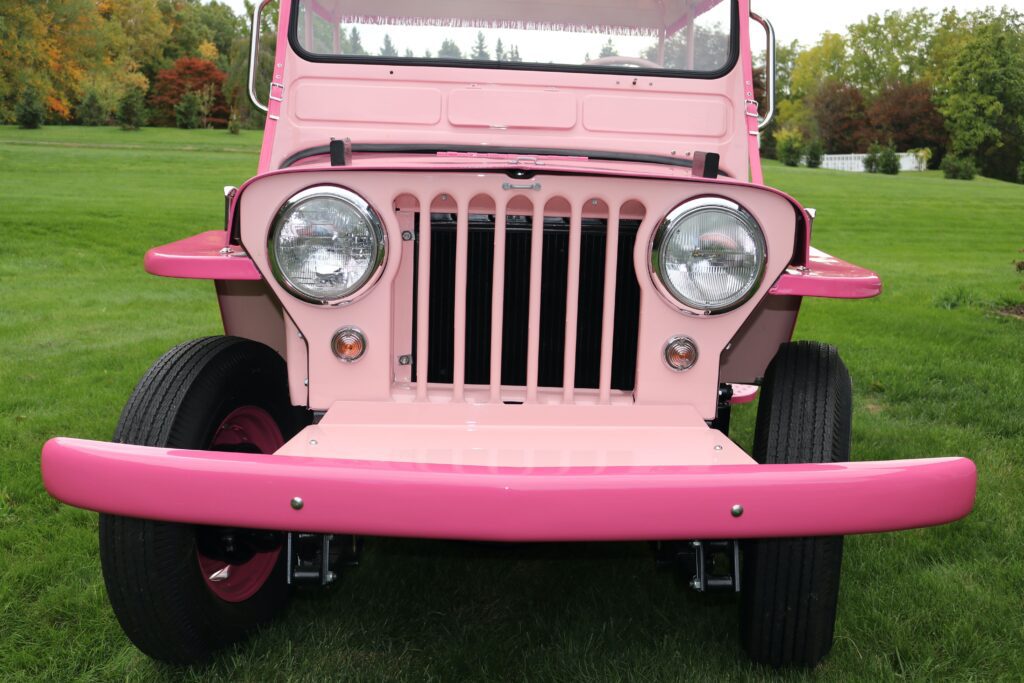 His Surrey required a full restoration. "It was a challenge that I looked at and said, 'I can do that.' And then I drag it home and the neighbors go, 'Are you nuts?' The more you tell me I'm nuts, the better it's going to turn out."
What began as a "piece of junk" ended up being a bright and playful rig. "I just researched everything and just put it all together, 'cause all I really had was a tub, a hood, a frame. All the rest was gone," Cerruto said.
A company in Washington supplied the fabric for the roof and seats, and it wasn't cheap. "At $175 a yard, a thousand dollars for the material it cost us, just for the material," he said.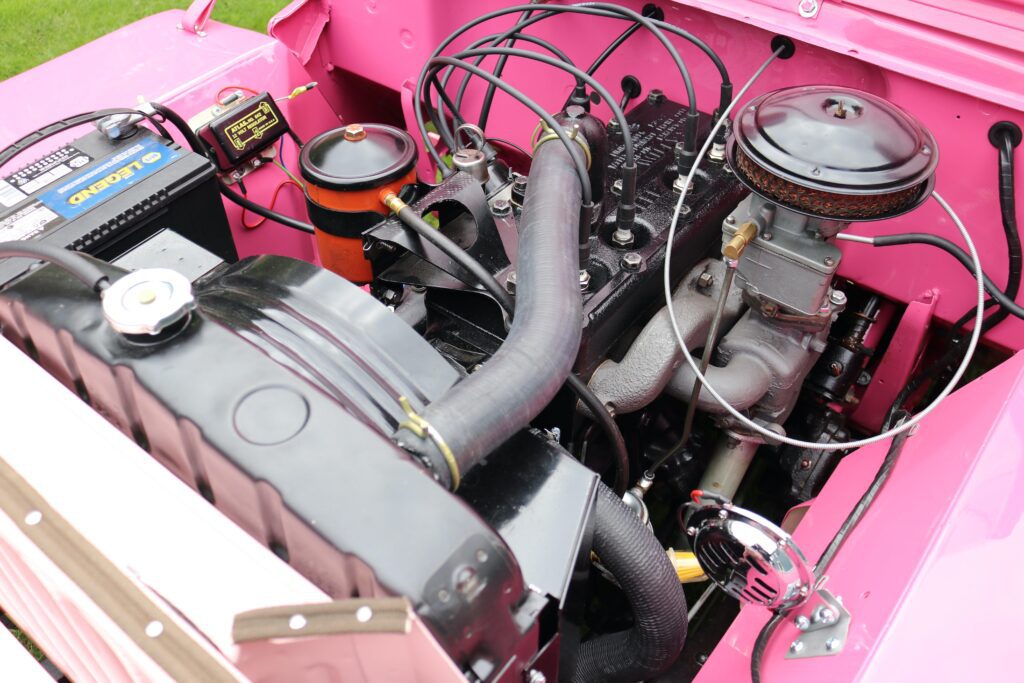 The Surrey is powered by a 134-cubic-inch, 60-horsepower, inline four-cylinder engine and has a three-speed manual transmission with shifter on the steering column. "There's no frills," said Cerruto, reporting that his is "one of 50 left. There's about 50 in a registry they have. Thee could be some more around but 1,100 (were built) and they got beat to hell."
The Surrey still needed some minor tweaks. It lacked windshield wipers and hub caps, and there are some leaks need to be sealed; "just minor stuff, which the next guy is probably going to do," said Cerruto, who was preparing for what the future would bring. He hoped it would find a good home for it.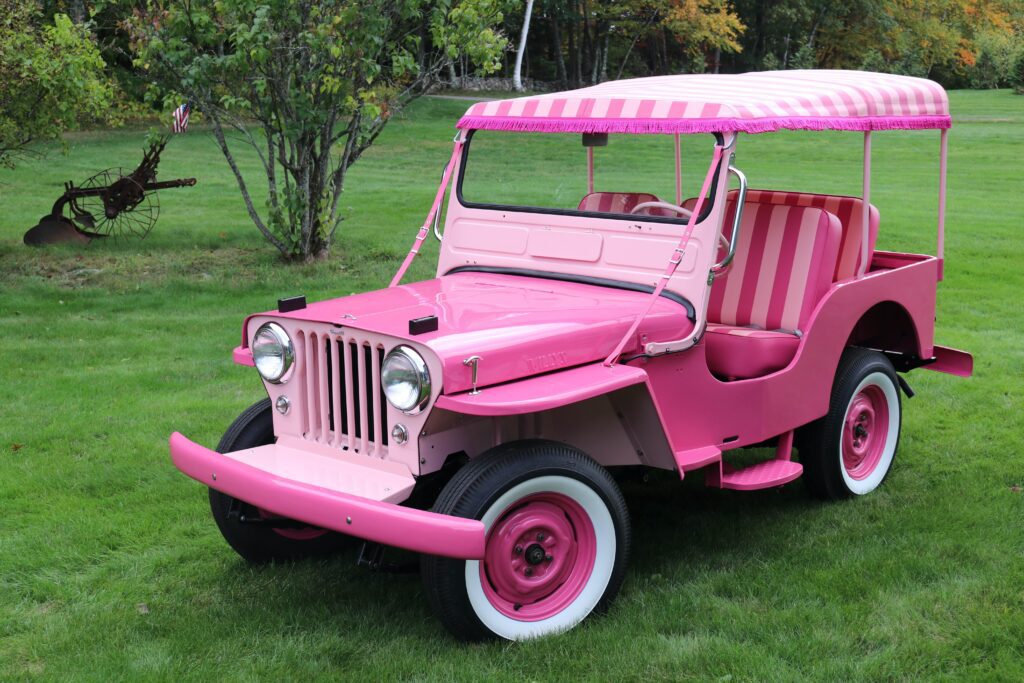 Besides working on the Surrey, he had been divesting himself of vehicles and belongings in his shop. "I sold all my equipment. It's just a heartbreak for me because they did give me a time date and I'm coming to that," he said.
Cerruto agreed that the Surrey did provide him a colorful exit. "Yeah, it's a good last project," he said.
See the 1959 Jeep Surrey in action in this RIDE-CT video…
Subscribe to RIDE-CT's YouTube channel to see classic car videos and more.