HARWINTON, CT – The buyer of a blue 2008 Ford Ranger pickup that I parked in July because of frame rust that had made it unsafe to drive in the opinion of a local mechanic is now trying to flip it after purchasing it for $1,600 and giving it a bath.
His asking price is $3,850. As you read this, it may already have sold. Fine. It was his prerogative to do with it as he liked after handing over a small stack of crisp $100 and $50 bills less than two weeks ago, but in advertising the Ranger on Facebook Marketplace, Brian DeFrancisco of Torrington didn't disclose the truck's true condition. That worries me.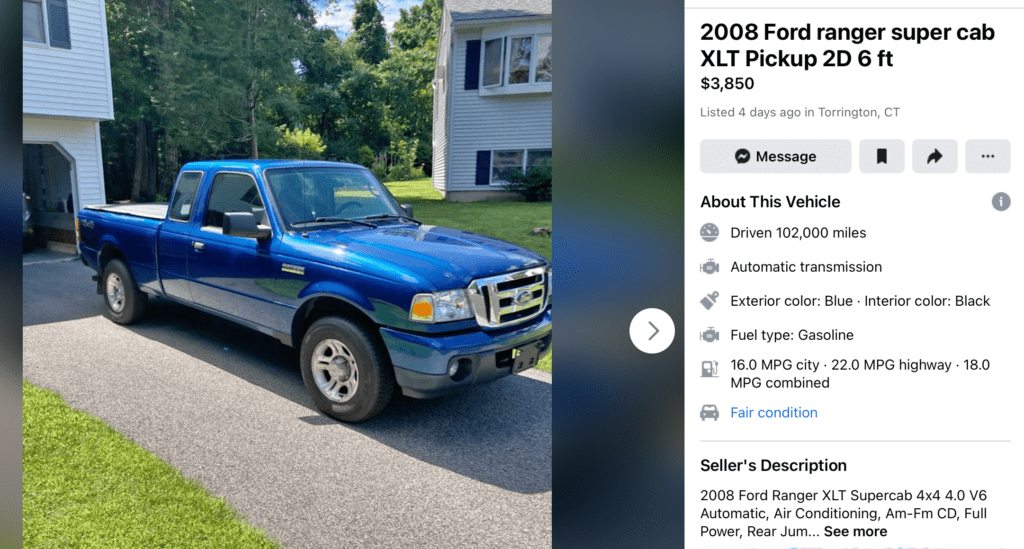 The back story on the truck is this. I bought it in 2012. Over time, thanks to the crud the state spreads on the roads in wintertime to keep the roads passable, the frame began to rust. About a year ago, give or take, the straps that held on the gas tank failed. A check by my regular mechanic revealed that the frame had deteriorated to the point where attaching new straps wasn't possible. The places where they'd normally be attached had rotted away.
To keep the Ranger on the road, I bought a couple of ratchet straps and my mechanic secured the gas tank. Yet in his ad, DeFrancisco merely stated that "a gas tank strap" needed to be replaced and the rear frame section needs to be repaired.
Adding a strap is not as simple of a fix as was implied. The frame is another matter. A couple of months ago, I went to a local welding shop and was quoted $4,000 to have the frame reenforced and to have brackets installed that would keep the frame intact. I figured it wasn't worth it.
A few weeks ago, I sought a second opinion and was told that truck was unsafe to drive; that cross-supports on the frame had failed. If I ever got T-boned, the truck would instantly be crushed and I would potentially be killed. The inspecting mechanic also told me to drive it home and park it, which I did.
In advertising the Ranger, I stated that the Ranger should be regarded as a parts vehicle and was transparent that it wouldn't be wise to drive it. In selling it to DeFrancisco, I had him sign a release acknowledging that it was "best being acquired as a parts vehicle; that it has substantial frame rust; that it (is) being purchased in 'as-is' condition, and that (he) will not hold the seller liable for whatever occurs" after buying it.
Maybe I'm over-reacting to a tip from a reader that DeFrancisco had listed the Ranger on Facebook Marketplace. Maybe DeFrancisco got another opinion on the truck and believes it to be safe. Maybe he's being transparent with those who come to look at it. Or maybe he's just trying to more than double what he paid for it.
Regardless, that's irrelevant. I only only know what I was told. Yes, the truck runs and drives, but I was told it's a potential deathtrap. I'd hate for someone to buy it not knowing what I was counseled and then be seriously injured or die in the Ranger that served me for 11 years.