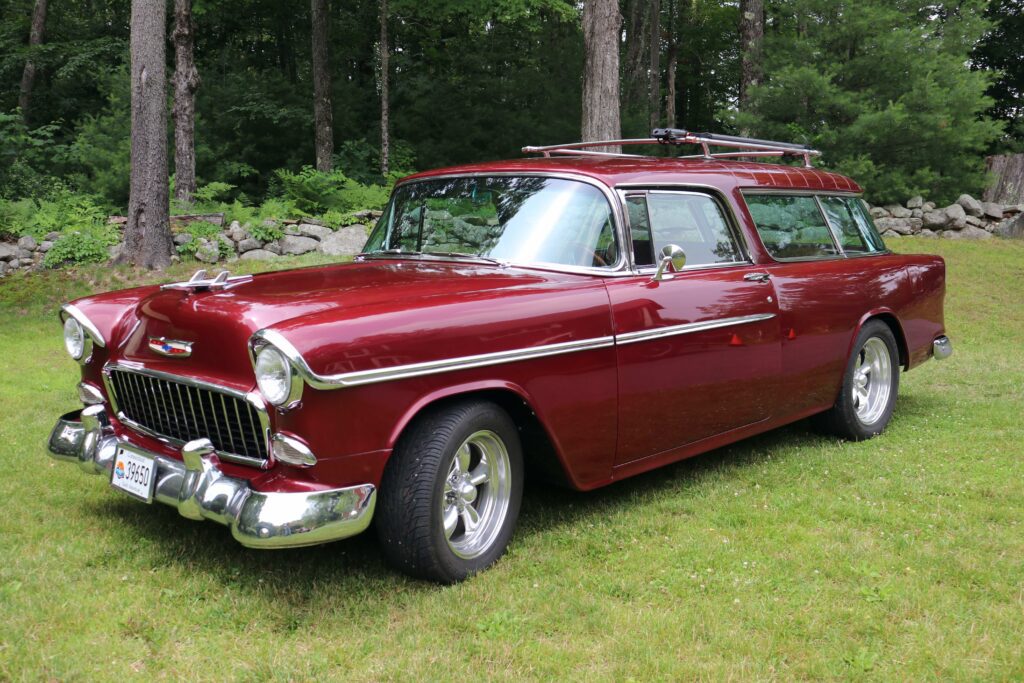 Uses Grand Canyon Driftwood To Accent The Interior
NORFOLK, CT – He's a professional woodworker with a love of the outdoors who finds inspiration in wild locations. He's also a classic car owner with a sporty 1955 Chevrolet Bel Air Nomad station wagon that has armrests and other interior accents fashioned from driftwood pilfered from the Grand Canyon in Arizona.
Richard West Lowe of Norfolk, who goes by his middle name, has owned the burgundy Nomad for nearly 23 years. It has only been reliably on the road for less than two years as it took him more than two decades to get it finished and to create its noteworthy Southwest theme within.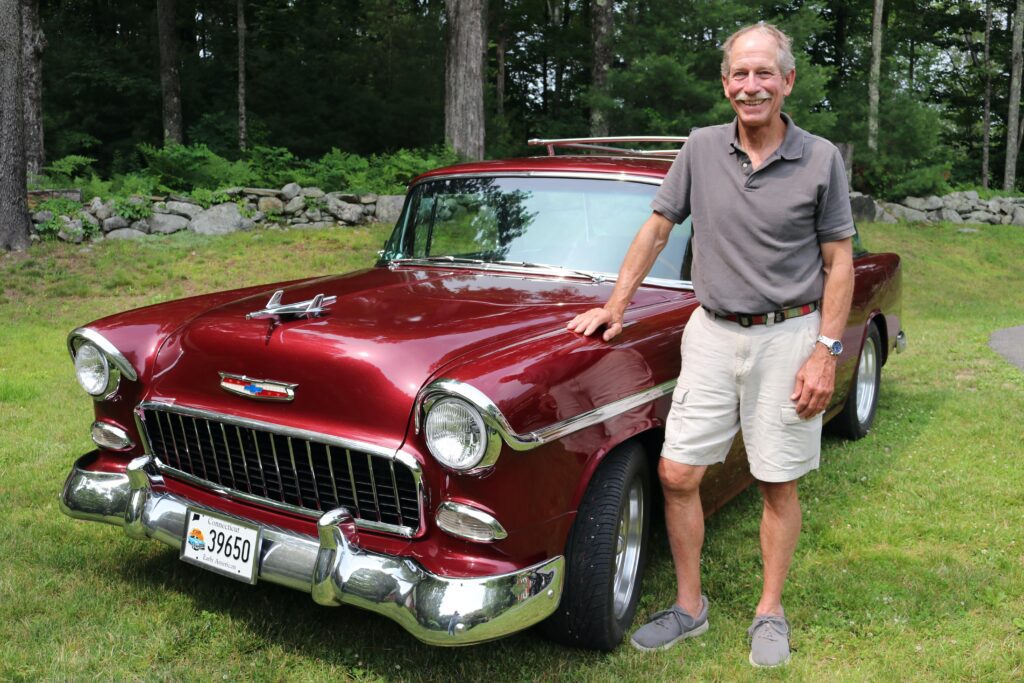 "Being a furniture maker, I wanted to make a furnituresque statement, which evolved into making an interior that was an environment. And I had this giant collection of driftwood that I'd collected in the Grand Canyon," he said recently, noting that he's "had the good fortune to kayak the length of the canyon a number of times."
Spending two weeks or more with friends on the Colorado River, muscling kayaks through frothy, turbulent water gave him opportunities to think creatively and visualize what could be done.
"It was just a ball. The eddies on the Colorado were massive. And, of course, it's a river so it's constantly eroding its banks. The best driftwood is root wood of pine trees – mostly that had twisted and wrapped around the rock and the cobblestones of the river bank," Lowe said.
"You could pull into an eddy and there'd be an area the size of a couple of ping-pong tables just bouncing and floating with bits of wood all tumbled from coming down stream. You'd go through as if you were shopping."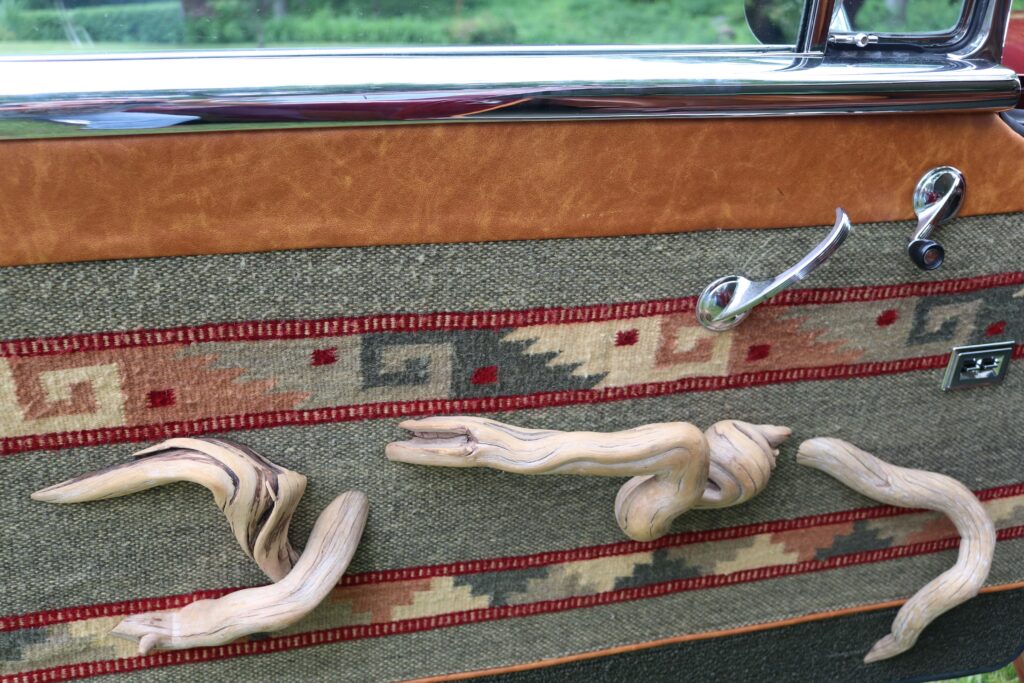 Lowe used some of those "fascinating pieces" on the interior of the Nomad's doors. That he restored a rare Nomad happened somewhat by accident when he decided to purchase a classic car.
"I'm a professional woodworker by trade and I assumed I was looking for a woody, but the search for woodies proved that they are scarce and expensive. In that search, I came across this car," he said.
The Nomad was found in Billerica, Mass. "It was drivable. It was running. The chap that I bought it from was drag racing it. He had a fire-breathing engine in it and a stump-pulling transmission, and you stood behind it and your eyes watered when it was running. It was really quite a beast," Lowe said.
Lowe negotiated a deal whereby the seller kept the engine and transmission, while he trailered home the frame, body and interior components. "When I bought it, it was eggplant (in color). Similar. Dark purple, but much, much darker. The body was, more or less, OK. It was a little ripply and there was rust on the floors and all the usual places, around the spare tire wheel well," he recalled. 
—
"I figured being a woodworker, 'Hey, I'm good with my hands. I can manage this' and got into it over my head in no time and went and found professional help" from Time Was Garage in New Hartford.
The rehab job was done in seasonal spurts over the years. A 350-cubic-inch V8 engine extracted from a 1974 truck that was found in a barn in Winsted was rebuilt by a friend for free. It got dropped in, along with a three-speed automatic transmission on the floor.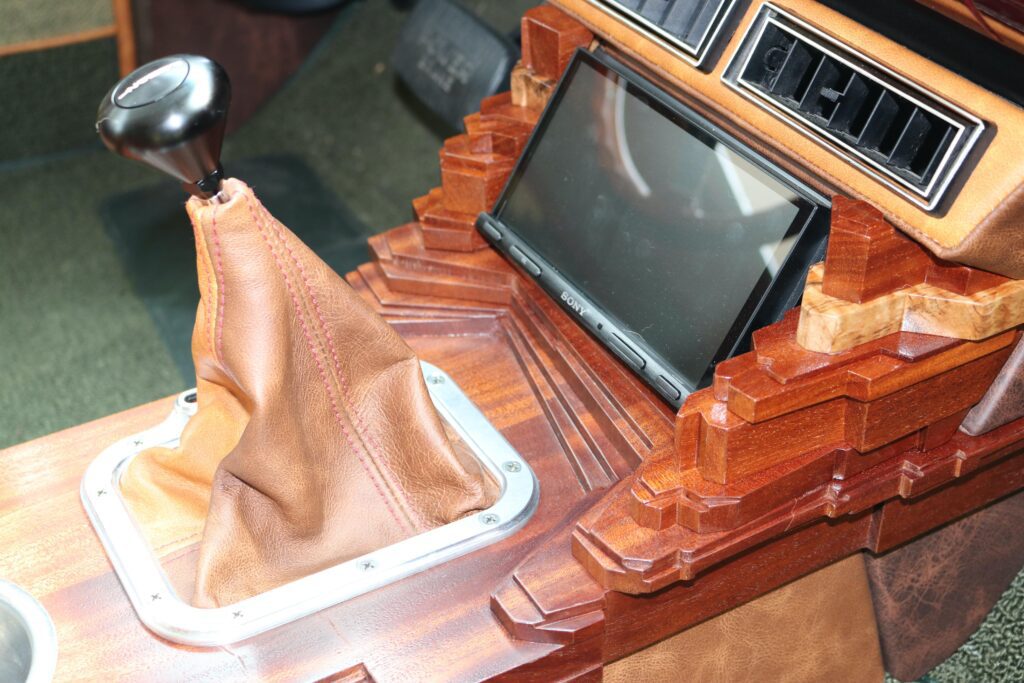 The console surrounding the shifter and other interior panels were also crafted by Lowe. "The wood is actually African mahogany because the color goes great with the color of the car and because I have a stash of it upstairs in my shop," he said.
"I just spent a lot of time with routers and chisels, working little pieces off and doing those layers. Some of its laminated up, some of its sculpted in. I made it all in blue styrofoam first. It was ugly as hell."
The resulting look is a blend of Art Deco, Cubism and Modernism with a nod to American painter Ed Mell. The headliner, door panels and seats reflect the Southwest and Navajo culture.
Check out the video…
—
"I get great reactions. The gearhead chaps are less intrigued. They want to know what's under the hood and when it's a small block 350 they wander off, but it's kind of fun," said Lowe.
"I didn't expect it, but the gals are particularly fascinated by the interior. Guys, too, but it's great fun to have a gaggle of ladies come by at a car show and spend 20 minutes trying to understand what I did and why."
Lowe's Nomad has many modern features – power windows, power steering, air conditioning and heated seats. It also has entertainment system with backup camera and a roof rack fabricated from yacht railing.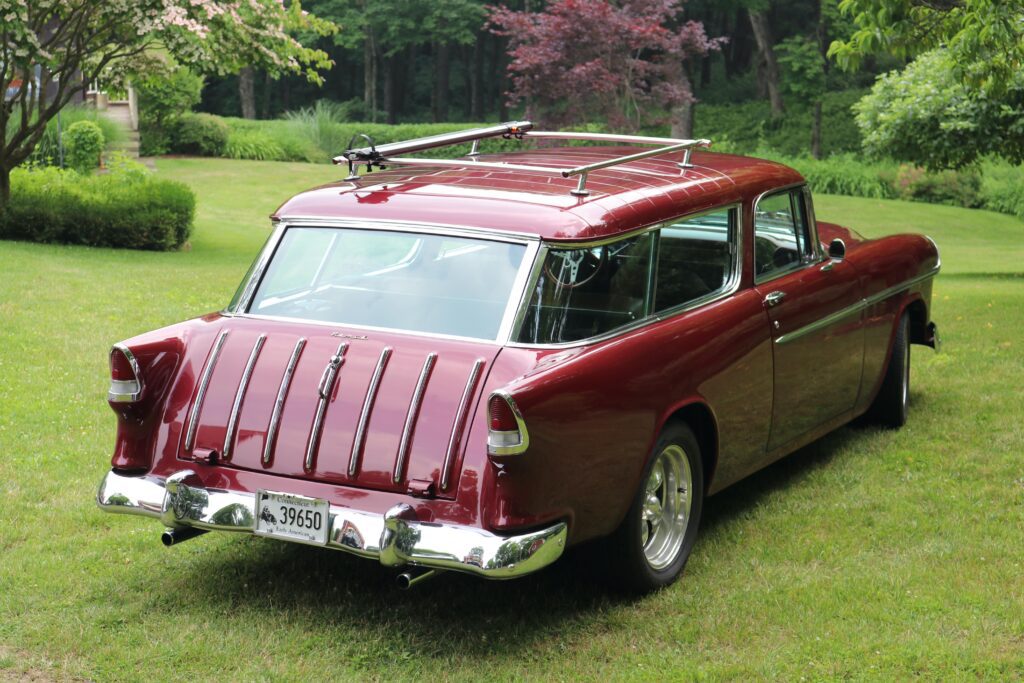 Lowe installed the heating elements for the seats himself. "Took a wild guess on the wiring and got it on the first try," he said proudly.
While Chevrolet used the Nomad name on various models between 1955 and 1981, it's the two-door "Tri-Five" sport wagon versions built in 1955, 1956 and 1957 that make the name memorable.
"There weren't very many made. They only made them for three years in the two-door format. The Nomad name hung on but it was a four-door by '58," said Lowe, whose Nomad is certainly unlike any other that exists today.