EAST HADDAM, CT – Truth be told, I've never been a big fan of the Hybrid idea. The thought of having a redundant powertrain beneath a common hood seems to wreak engineering indecision. Why can't one power source be optimized to the extent that it provides the most efficient solution? Not to mention all the complication, added weight, etc.
Then along came the Plug-In Hybrid (PHEV). They essentially function on all-electric energy first, and then default to gasoline power when the battery charge (21-mile in this case) is depleted. They're good for those with short commutes or grocery getting, but still provide the confidence of gasoline engine backup when operating demands require further range.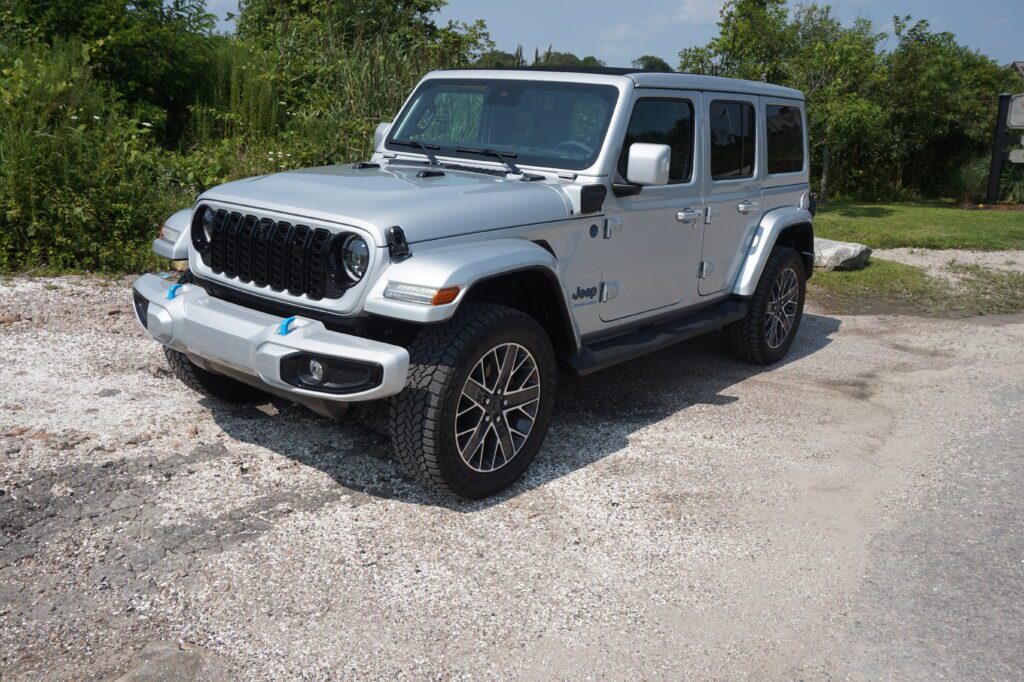 Like a pure EV, if you want to take advantage of the battery supplement, you do have to plug it in. But since the battery is small (compared to an EV), the process is fairly quick – even on 110 AC.
When it comes to the subject Jeep, total range is on the order of 370 miles from both energy sources, combined.
The Wrangler 4xe, however, takes the redundant powertrain idea to a new level of adventure. Because it exploits it by turning the Jeep into two utility vehicles in one! If your circumstances allow, you can use the rugged 4xe all week long as a simple daily commuter on electric charge. Then, when the weekend arrives, you can rest easy and head for the hills with the confidence of gasoline power.
Now we're talkin'!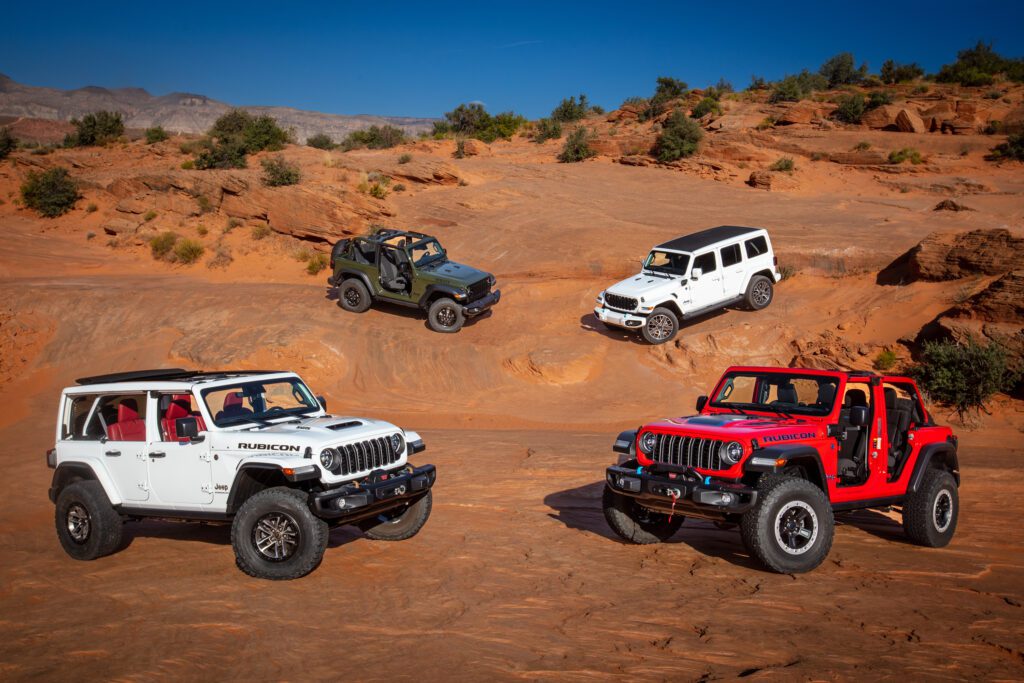 As a Jeep, it remains sparked by grit, but in this case it's fueled by a bit of grace as well. That's because the 2024 Wrangler four-door I drove included what's called a Sky One-Touch® Power-Top, a $3,295 option. Though, obviously, it was still an ever-capable Jeep, the body color-coordinated hardtop package adds a new level of refinement. Have no fear, though, it still tramples down the road. If there is one.
No, you won't confuse it for a Mercedes.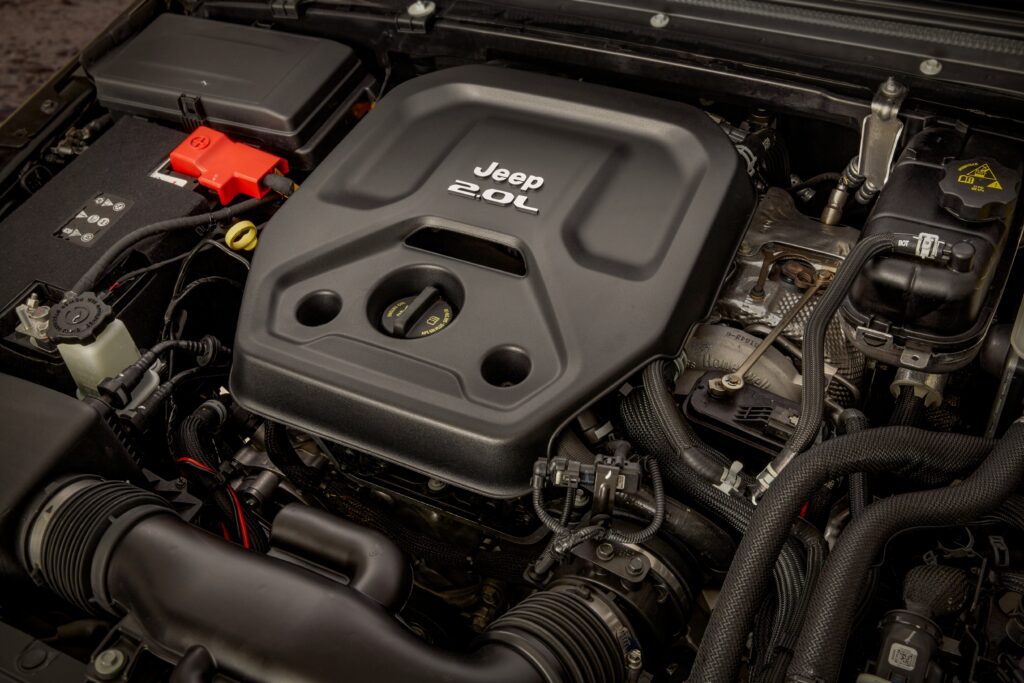 Power is derived from a 2.0-liter, twin cam, turbocharged engine that develops an impressive 375 horsepower and 470 lb-ft torque, with direct injection. Be aware however, that's with the supplemental starter/generator in motion and the electric motor engaged. On its own, the four-banger offers 270-horsepower. It's mated to a sophisticated 8-speed, automatic transmission. The days of get-down, rough and tumble Wrangler mechanics are over – making this the most complicated Jeep to date. In addition to competent four-wheel drive, there is a lot going on underneath it.
I'd like to talk to you about the Jeep's off-road prowess, but truth be told the only dirt that most Wranglers will ever see here in Connecticut is through what is now incessant state-funded Department of Transportation construction zones. Perhaps the orange cones will inspire you to think that you're traversing the Rubicon Trail.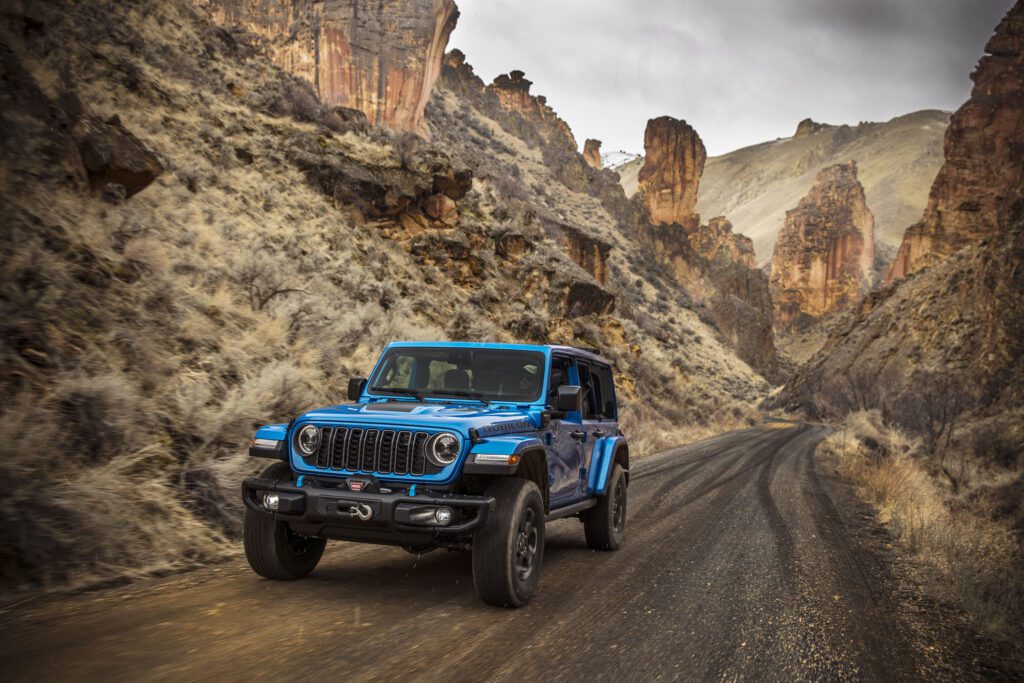 —
But the reality is the Jeep Wrangler earned its status as an American icon the old-fashioned way. By earning it! So much so that it inspired Ford to reinstitute the Bronco, while a new Scout and Toyota Land Cruiser are in the works. As an automotive lifestyle choice, I believe we're all the better for it. Particularly, since the 4xe adds improved operational efficiency. Being heavy and overbuilt, it certainly won't ever be a gas sipper. Meanwhile, it's now America's best-selling Plug-In Hybrid so the buying public's taking notice.
Such is the price of progress. The Jeep 4xe starts at $49,995. But don't be surprised if it takes some $60,000+ to totally charge the Jeep Wrangler 4xe adventure.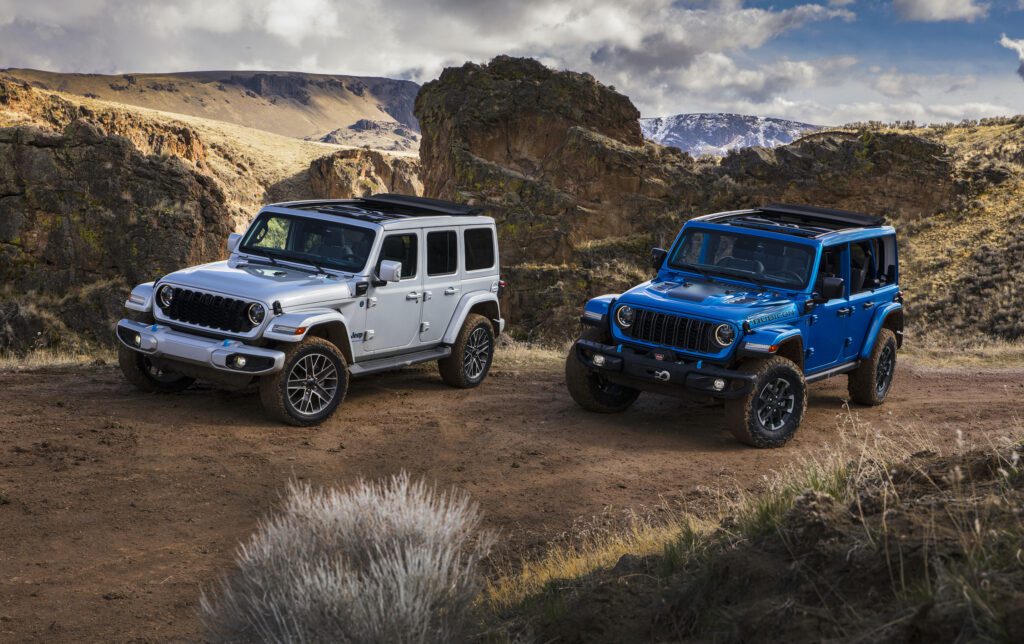 (Photos courtesy of Jeep unless otherwise noted)