TROY, MI – Luxury automaker Lexus makes the most dependable vehicles on the road, results of a survey by J.D. Power released Thursday revealed. Lexus averaged 133 problems per 100 vehicles, well below the industry average of 186 problems.
Genesis claimed the runner-up spot with 144 problems, with Kia (152 problems), Buick (159) and Chevrolet (162) rounding out the Top 5.
The study examined how 2020 model-year vehicles representing 31 brands were performing in terms of quality, component replacement and appeal. The results were based on 30,062 responses from owners after three years of ownership.
At the bottom of the list were Land Rover with 273 problems, Lincoln with 259, Audi (252), Ford (249) and Mercedes Benz (240).
A total of 15 brands finished above the industry average, while 16 brands finished below.
The top luxury brands were Lexus, Genesis, Cadillac and BMW. All were above the industry average. The worst were Lincoln, Audi, Mercedes-Benz and Jaguar, all of which were below the industry average. The top mass-market brands were Kia, Buick, Chevrolet, Mitsubishi and Toyota. The worst were Ford, Chrysler, Volkswagen, Volvo and Subaru.
J.D. Power declared that the Lexus RX and the Toyota C-HR tied as the most dependable model(s).
Here's how J.D. Power ranked the brands: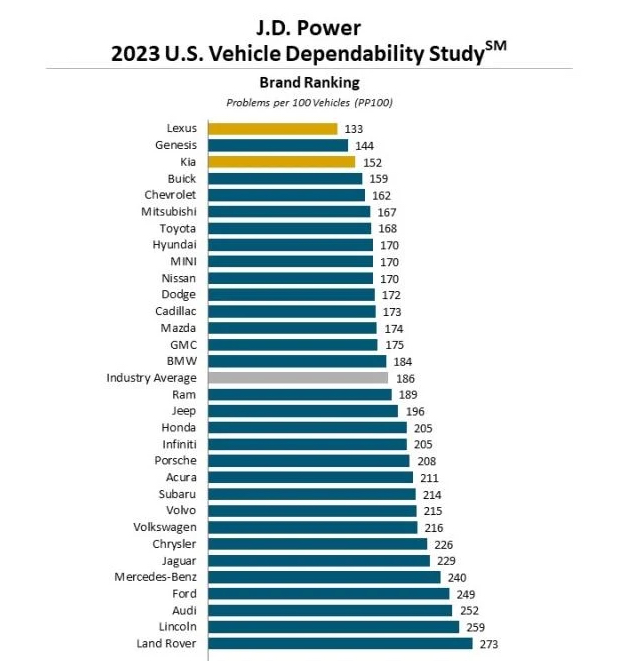 Subscribe to RIDE-CT's YouTube channel for videos of classic cars and more.