The license plates on Scott Chamberlain's classic Honda that read "KAWAII" are purposeful. "That is the Japanese word for cute or adorable or lovable," said the New Milford resident, and those descriptions inarguably fit the appearance of his 1991 Acty.
The Honda Acty is a mini-truck model that was never sold in the United States. It's classified as a "kei" car in Japan, along with similar home-market models like the Subaru Sambar, the Daihatsu Hijet and the Suzuki Every.  
Kei cars are small, economical and versatile. Examples like the unit body Acty feature cabover design and can be found in pickup, van, flatbed and dump-body versions.
"Unlike the United States where we might have multiple vehicles, these were built for urban dwelling Japanese," said Chamberlain while showing off the van-version Acty that he acquired in the fall of 2020.
"This was probably some family's only vehicle that they had to work from, and drive to the country, and commute, and do errands in and so forth, so it really had to serve some family's total needs."
The Acty was an impulse purchase for Chamberlain. "Basically, it's a COVID project," he recalled. "We were coming home, going by the grocery store, and my wife spotted it and pointed at it and said, 'Stop!'
The Acty was parked on the lot at Auto Technic, a used car dealer in New Milford where Route 202 meets Route 7. "I drove up to it and asked the proprietor if it was for sale. He said, 'Yes.' I plunked down 500 bucks and I said, 'I'll come back later and we'll work out the details.'"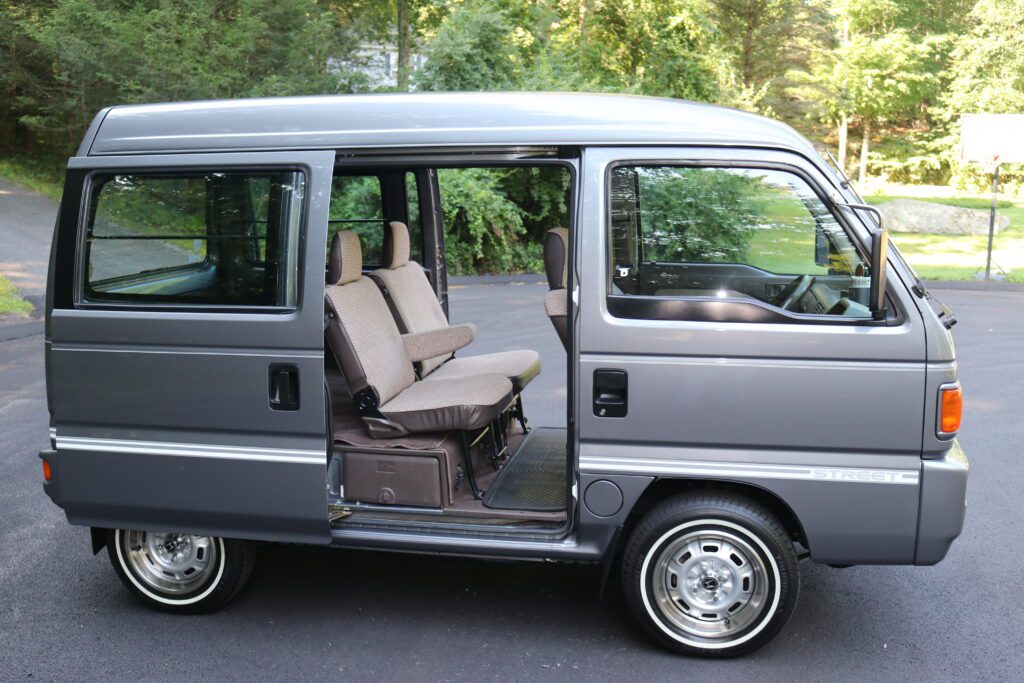 The Acty needed some cosmetic work when Chamberlain brought it home. "I got it as a complete, running, registered car, and I drove it that way for a while, but it had some underbody corrosion issues. Nothing major. It had been a city car. But there was some things," he said.
"This car was a Tokyo car, so it lived its life parked on city streets. It got pretty banged up. It had a ton of rash from one end to the other."
What started as a clean and patch job turned into a major makeover. "It's had the interior striped out, all the glass, all the rubber. It's not a frame off (restoration) because it doesn't have a frame, but close to that," said Chamberlain.  
"The hardest part on this car has been the windshield. That windshield took six months and $1,600 to acquire." He found a replacement windshield in Canada.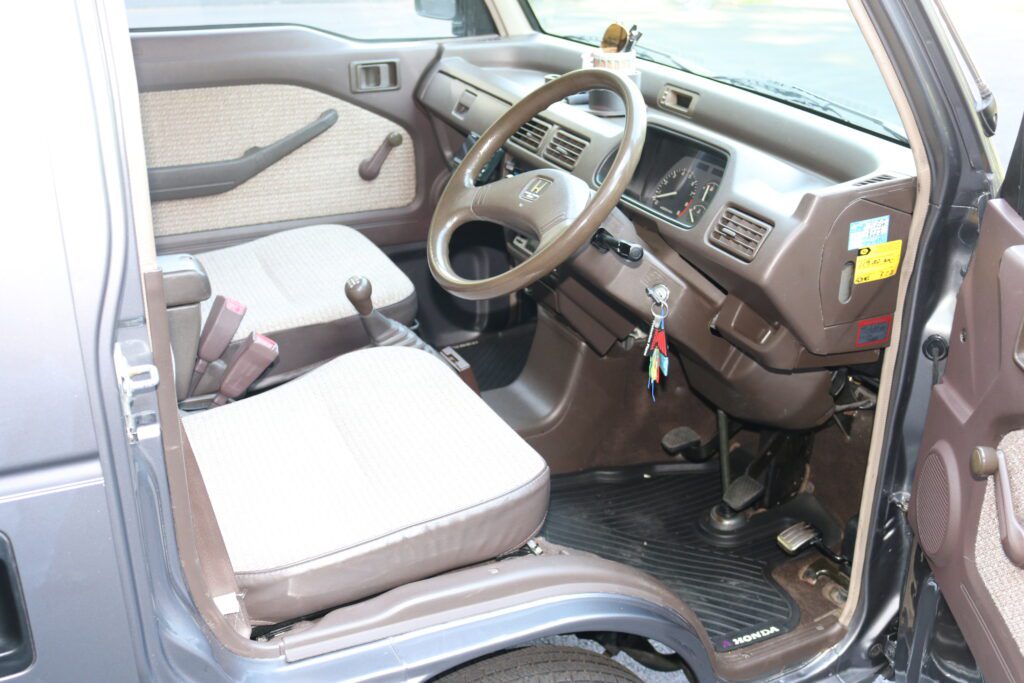 There are guidelines for kei cars in Japan. Chamberlain said they must be less than 12 feet long, less than six feet wide, and must have engine that is 660cc or less. His Acty's engine produces 38 horsepower. It's a right-hand drive, four-wheel drive version.
"It's a 660cc slant three-cylinder. Essentially it's a Honda Gold Wing (motorcycle) motor with three cylinder lopped off," he said, reporting that it does have limitations. "On a good day you might get 70 miles an hour out of it, but it's running flat out."
There are several reasons why kei cars like the Acty weren't sold new in the U.S. "Under U.S. law, this truck would be blatantly illegal as to emissions, as to safety, as to a ton of different requirements," he said.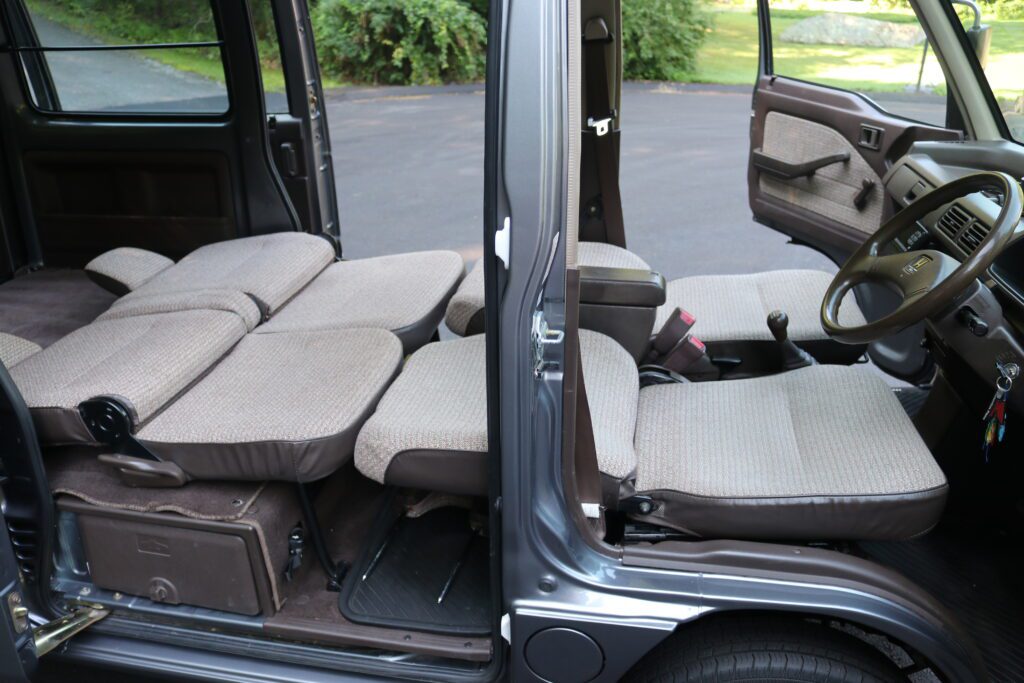 However, classic models may be sold here and they're becoming increasingly popular. The rear seats in Chamberlain's Acty can be folded down to the floor to create a larger cargo compartment. The seat backs can also be reclined. Reclining the front seats combines simultaneously makes a sleeping area the size of a double bed.
Chamberlain takes his Acty to shows and cruises, but also uses it for routine trips. "I take it to work. My office is about 7½ miles away, so that's a nice drive. I will take it to the store. It's got a dump sticker on it, so it runs errands. It's used as a truck," he said.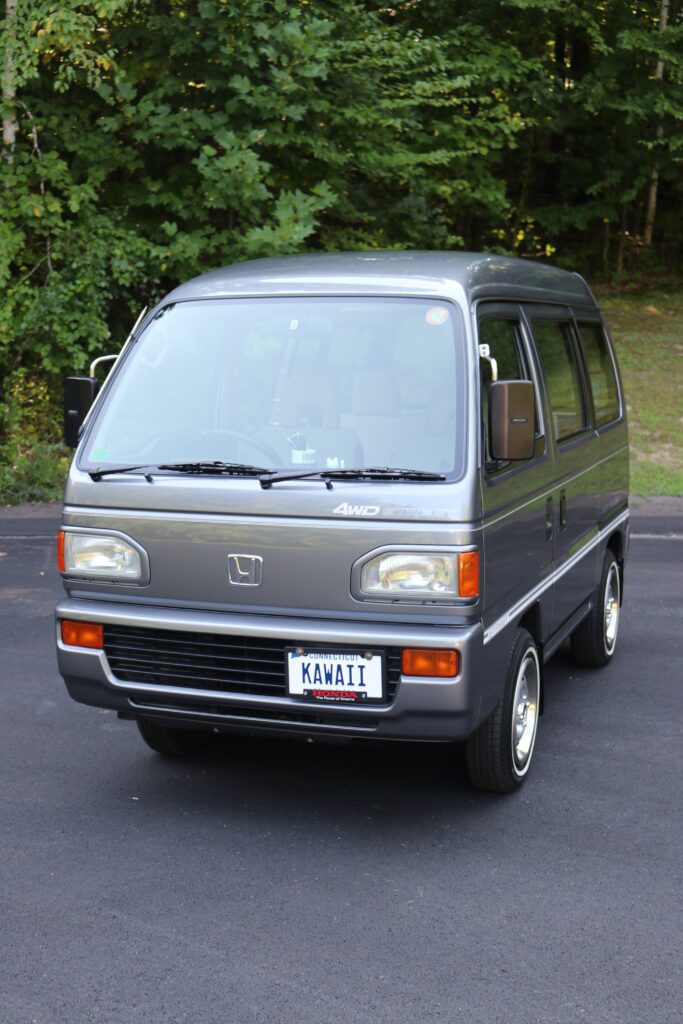 Unlike many classic car and truck owners who at shows often hear from spectators that their family had one when they were kids, Chamberlain gets a largely different reaction because the Acty wasn't sold here and is such a novelty.
"I've never had anybody react negatively. Big bikers like it. American car-driving people like it. Women love it. And kids are crazy for it. They want to sit in it and crawl all over it. People tend to think it's just like the coolest thing they've ever seen," he said.
See the 1991 Honda Acty in action in this RIDE-CT video…
Subscribe to RIDE-CT's YouTube channel for classic car videos and more.