NEW MILFORD, CT – Stephen Shay was 17 years old when he bought his first car – a 1968 AMC AMX. The model was a short-lived sports car that mixed pony car size (with a long hood and short rear deck) with tire-smoking muscle car performance.
"In high school, I needed a car, and my mom told me if you save your money, you can get what you want, but you got to pay your own way," said Shay on a sunny fall day back in 2021, recalling that he worked two jobs for a year and a half to fund the purchase.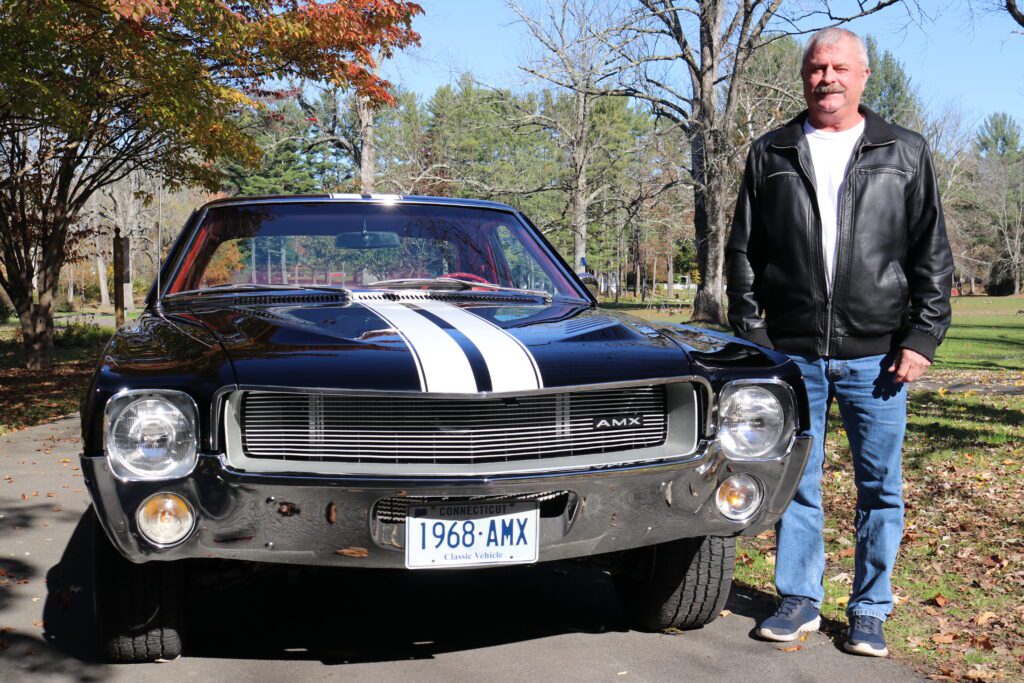 "I worked at a Cities Service, which is now Citgo, gas station on weekends. And during the week, after school, I worked at the supermarket. It took a long a long time but I saved 2,500 bucks, which was a lot back then. I said, "Okay, it's time to go look for a used car.'"
Shay first considered a 1955 Ford Thunderbird and a 1966 Dodge Charger but neither fit his budget. A two-seater AMX then presented itself in his hometown of Stamford, launching a life-long affection for cars built by American Motors. The company lasted from 1954 to 1988 and built the AMX for the 1968, 1969 and 1970 model years.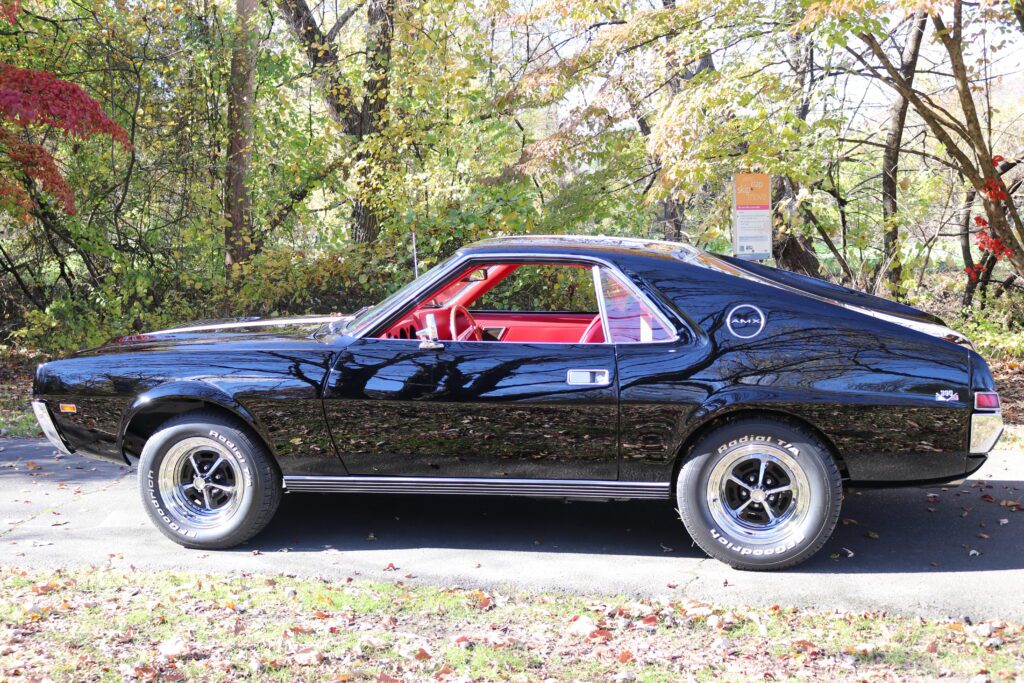 "I had never seen an AMX. I had never heard of it. I know what Ramblers were, and Javelins. I took a look at it and I drove it. The guy wanted $2,600 and I talked him down to $2,500 and I bought it," Shay said.
It served him well while it lasted. "I had it four or five years and then I totaled it. I came around a corner a little too fast," he said. Its replacement was more sedate. "I bought a Rambler for 200 bucks and drove that for a long time. Put 250,000 miles on it. And then I had a six-cylinder Javelin. Put a lot of miles on that, too, going back and forth to school."
After college came marriage and five kids. "You put the toys away for a while," Shay said. But memories of the AMX nagged him until he found a replacement on eBay in 2008. "I had one when I was a kid and it was time to do it all over again, so I found one that needed a lot of work. A total restoration. But the price was right and it was number matching and no rust."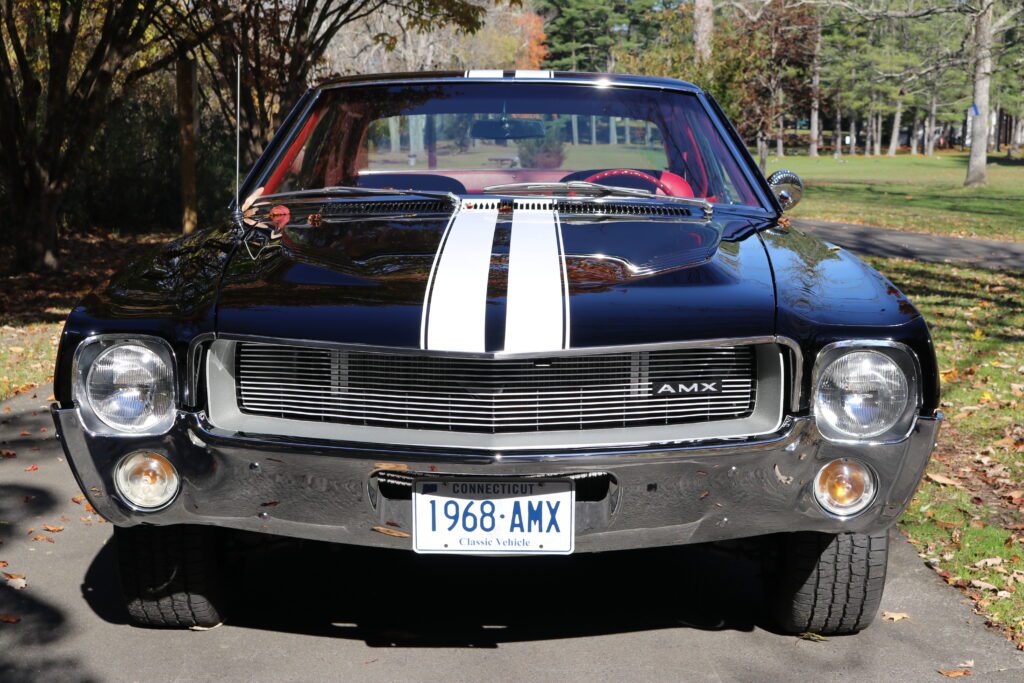 The car was in a barn in Trumbull and cost him $3,500. "All the parts were there and there was no rust – on the frame, anywhere," he said. 
"It needed work. I took it completely apart; down to bare metal. Every screw, every nut, completely apart. Repainted everything that need repainting. I rebuilt the motor, rebuilt the transmission, rebuilt the rear end. I found material, the original material, for the seats in a warehouse and I brought them to an upholsterer. He did the seats. And I put new carpet in."
The restoration was a slow process. "It took 12 years of tedious, long nights working on it but sometimes it was a lot of fun, sometimes it was frustrating," he said. "I said I'm going to do this right or I'm not doing it."
Like his original, his current AMX is black on the outside. But this time it has a bright red interior. The earlier one's inside was black. "It makes for great conversation at shows. I love talking about the car. A lot of people either they have no idea what it is, so you tell 'em and they're pretty interested, and then there are guys that know what it is and they say, 'Oh, I never see this. Tell me about it.'"
Only 19,000 AMXs were built during its existence with fewer than 7,400 having a 390-cubic-inch V8 engine with four-speed manual transmission like Shay's has. The AMX name stood for "American Motors experimental" and each unit came with a plaque on the dashboard that gave its production number. His current AMX was the 733rd unit produced, whereas his first was number 2,825.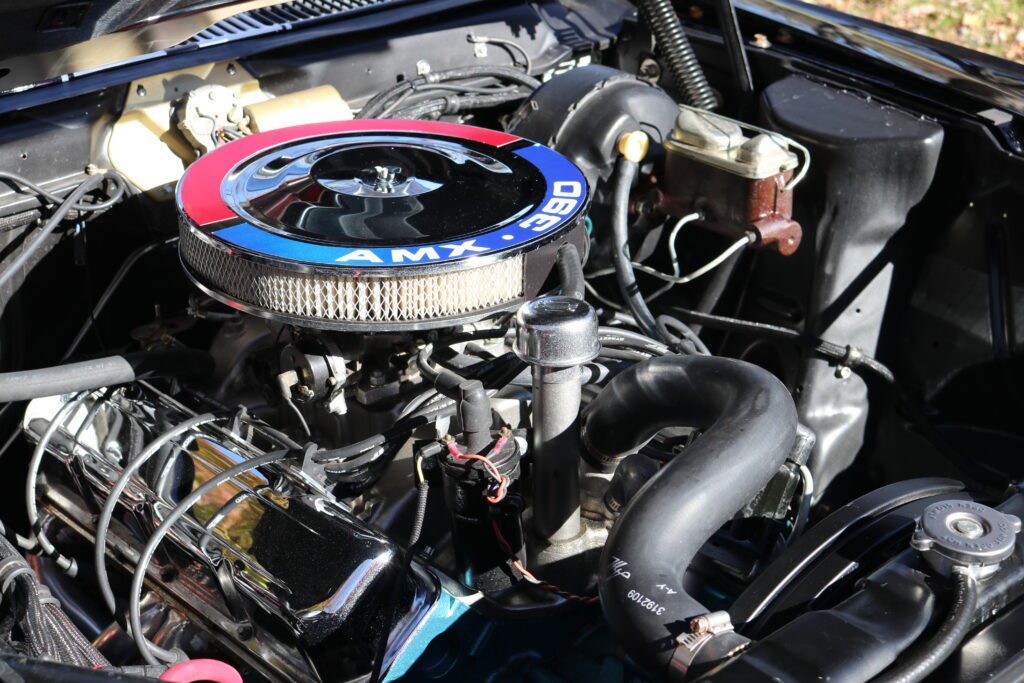 It's the rarity of the AMX that appeals to him. "Nobody has 'em," said Shay. "They're very unusual. They're very underrated. They're quick. They hold a lot of speed records. They handle very, very well. They were meant to compete with the Corvette because it's a two-seater."
See the 1968 AMC AMX in action in this YouTube video…
Subscribe to RIDE-CT's YouTube channel for classic car videos and more.