NEW MILFORD, CT – The personalized license plates on Carl Oberg's classic Ford read "DRTY BRD" even though the black 1963 Falcon Futura convertible always glistens. The words don't refer to its state of cleanliness, rather to the fact it has been modified to have a hot rod quality.
"It's kind of an inside joke. It's a dirty bird. It's not clean. It's not an original car," he said. The "not clean" comment refers to stock components having been jettisoned for upgrades.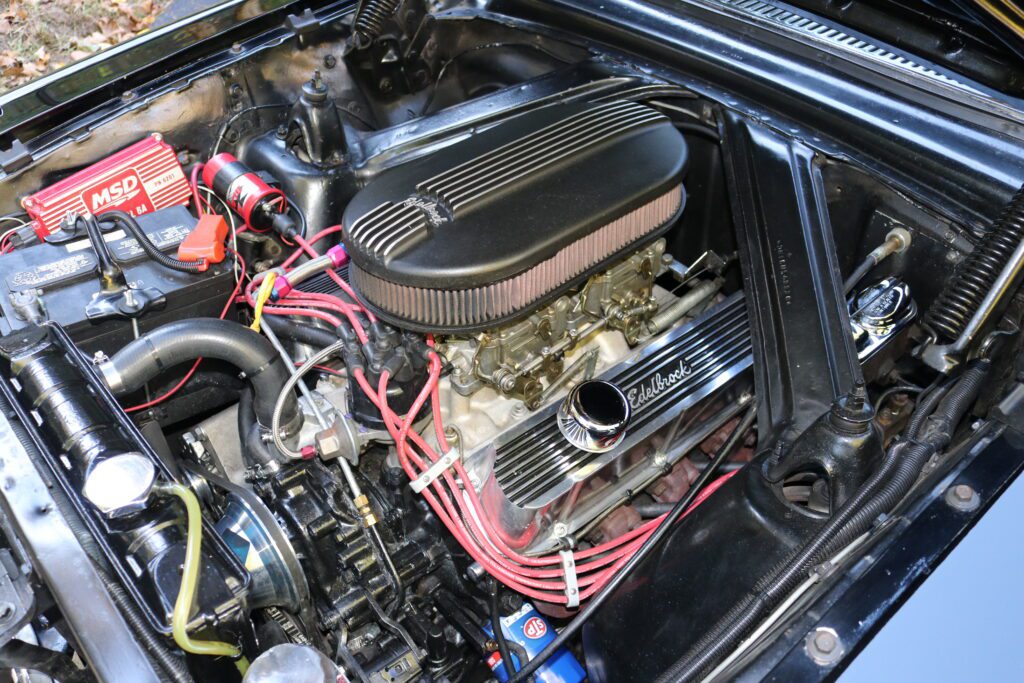 For instance, it's powered by a 302-cubic-inch V8, an engine that Ford never offered in the first generation Falcon. It also has a five-speed Tremec transmission. Ford only provided a four-speed manual. And its wheels were created for a 1969 Ford Mustang Mach 1.
A resident of New Milford, Oberg is a life-long car enthusiast. He landed the Falcon in 2017. It was after his father passed away that he began searching online for something sporty. "I was looking and my wife came to me at one point and she said, 'You know what? It's time. Why don't you buy yourself something.'"
Oberg purposely avoided models that he had in his youth and models that are rather commonplace. "I had a Chevelle. I had a Mustang. Everybody has 'em. No offense to anybody that has 'em," he said. "When I saw this, they're not around. You don't see a lot of '63 Falcon convertibles around."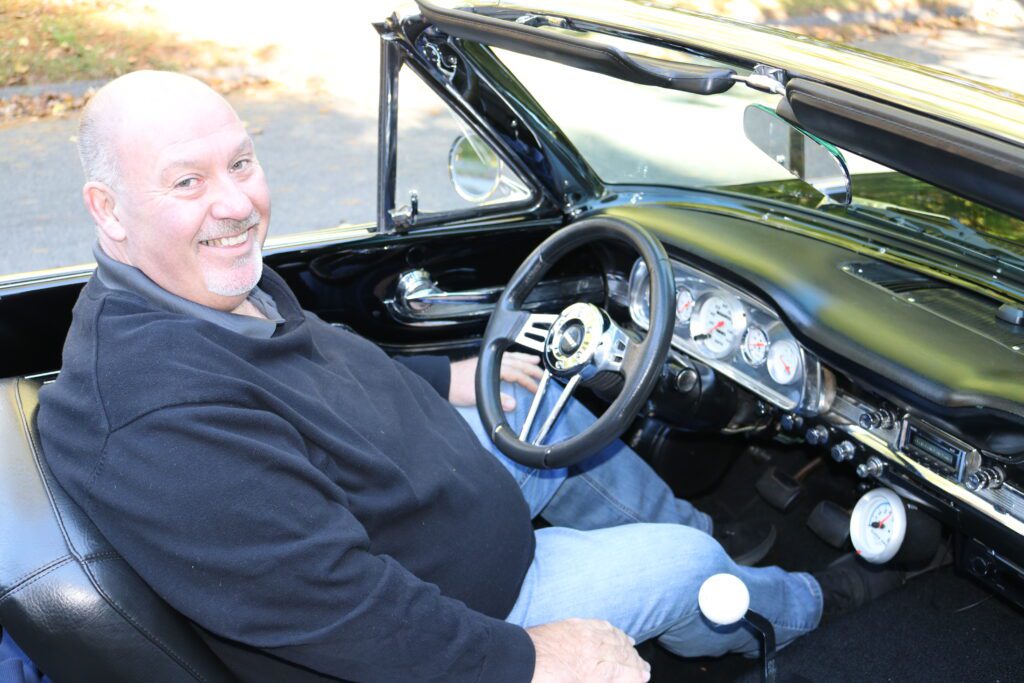 He actually spotted two Falcons simultaneously – a 1963 convertible on a dealer's lot in far northern New York and a 1962 hardtop in Georgia. "I was torn between the two," he said, recalling that his purchase was made on the fly while driving to see the one near Lake Ontario.
The dealer called him as he was en route and informed him that another prospective buyer was headed up from Brewster, N.Y. "I gave him my credit card number as a deposit to get rid of the other guy and I went up and made the deal and bought the car.
A month later, the Falcon was flat-bedded to his home. It wasn't in the condition that it is now. "I don't want to say a mess, but it wasn't clean. It needed a good scrubbing top to bottom. Calipers were frozen. Brakes were bad. So I put it on jack stands and worked on it for a whole winter. Just a little bit in the garage just to keep me busy," Oberg said.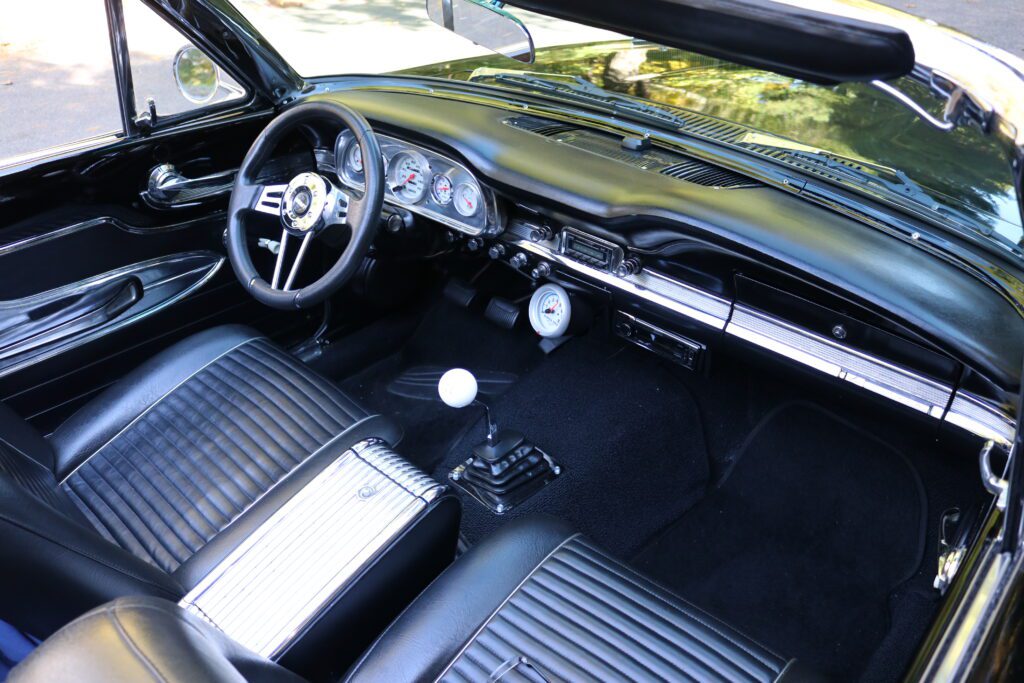 Oberg knows his way around a garage. His grandfather opened Oberg's Village Texaco on Church Hill Road in Newtown in 1954. His father took over and the service station and towing service remained in business until 1991. He remembers helping put gas in customers' cars when he was four or five years old.
"I hung around all the hot rods. From '63, '64 on, I worked in the garage for my dad with a rag in my pocket." he said. "I'd have to call a mechanic out to open the hoods to check the oil on the customers' cars 'cause I couldn't reach it."
"I grew up with Mustangs and GTOs and all the hot rods, '55 Chevies. Kids were always around the garage at night, and I loved it."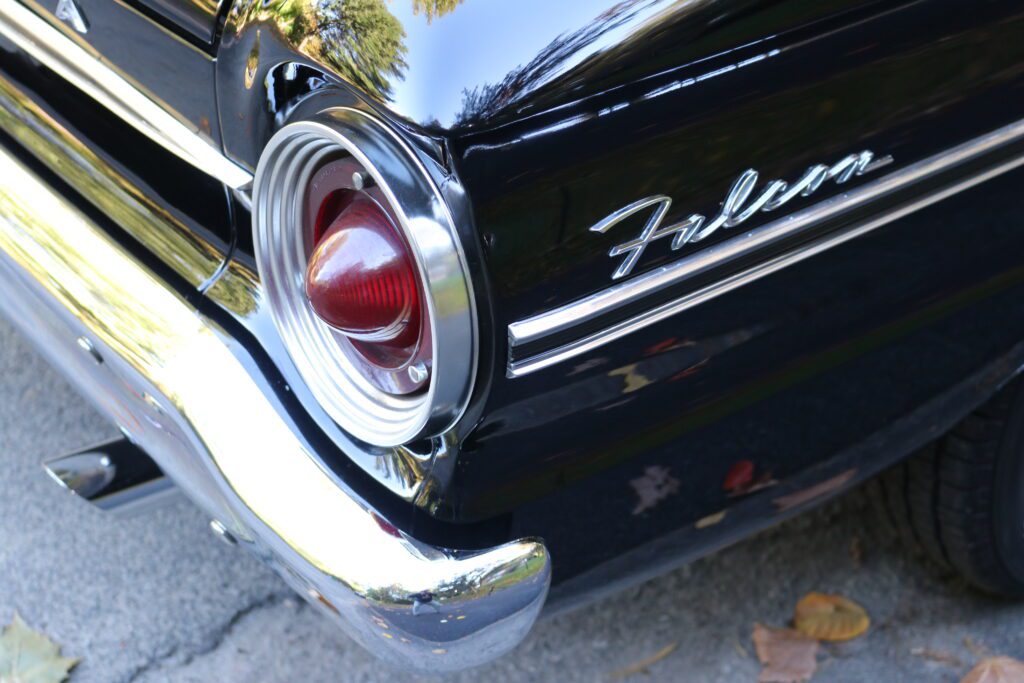 Oberg got his first car before he got a driver's license. "When I came into my teens, when I was 15, one of our customers had a '66 Mustang, six-cylinder, that my father got me for $25. It had 45,000 miles on it," he said. It also had an automatic transmission.
"My uncle had a Ford Fairlane wagon that rotted in half. I took the 289(-cubic-inch) V8 out of that – at 15 years old – and put it in this Mustang. That was my first car." He later had a 1967 Chevrolet Chevelle SS.
Marriage, kids and work eventually intruded, but his affection for what eventually became classic cars never waned. And a desire to own one ultimately brought the Falcon to his garage.
"I like to wrench on it as much as I like to drive the car," Oberg said. The Falcon has been upgraded to rack and pinion steering and front disc brakes have been added. The carpeting has been freshened, too.
Ford introduced the Falcon in late 1959 as a 1960 model. It was an inexpensive compact car. The model lasted until 1970 when it was replaced by the Ford Maverick. The first generation was built for the 1960-63 model years.
The Futura version of the Falcon was the top trim level. With the modifications, Oberg's Falcon drives better than it did from the factory. "It drives well," he said. "It's got some pep to it. It steers well. It stops well. It's comfortable to drive. It's not something you're going to take and do 85 miles an hour on the highway, keeping up with traffic at 70, 80. I can, but it's a cruiser."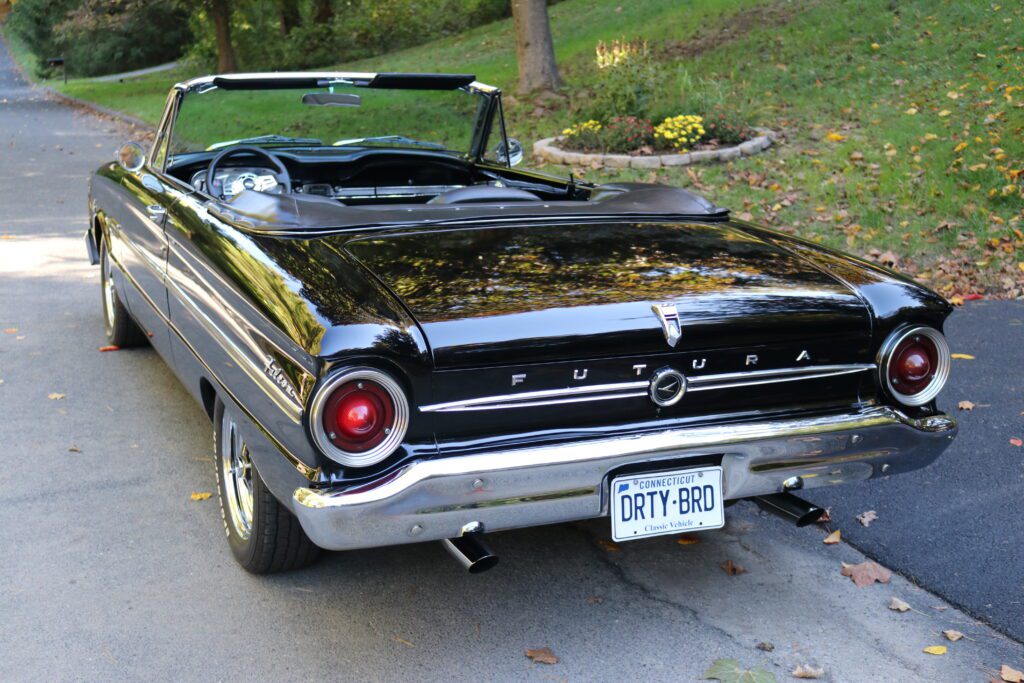 Oberg said he drives it "enough. I don't run the wheels off of it. I drive it on a nice day. My wife and I will take it up through Litchfield, Canaan, stop and have a bite to eat with the top down, go up towards Great Barrington."
Despite what the "DRTY BRD" license plates suggest, the Falcon never gets soiled. "I pride myself on keeping it spotless. Half the fun is cleaning it, keeping it going. I'm forever under the hood," Oberg said.
See the 1963 Ford Falcon Futura convertible in action in this video on RIDE-CT's YouTube channel…
Subscribe to RIDE-CT's YouTube channel for classic car videos and more.