BETHLEHEM, CT – It's not a stretch to suggest that Karen Henning was the envy of her classmates at Woodbury's Nonnewaug High School when she tooled around in what was the hottest muscle car of the era. Indeed, Pontiac's two-door, high-performance GTO model, which debuted in 1964, is regarded as the first muscle car, and Henning had a GTO as her first car.
"It was a 1969 GTO that my mother gave to me on my 16th birthday. It was my mother's car. She had it for about two years and when I turned 16, she gave it to me," Henning recalled last fall as she stood in the front yard of her home.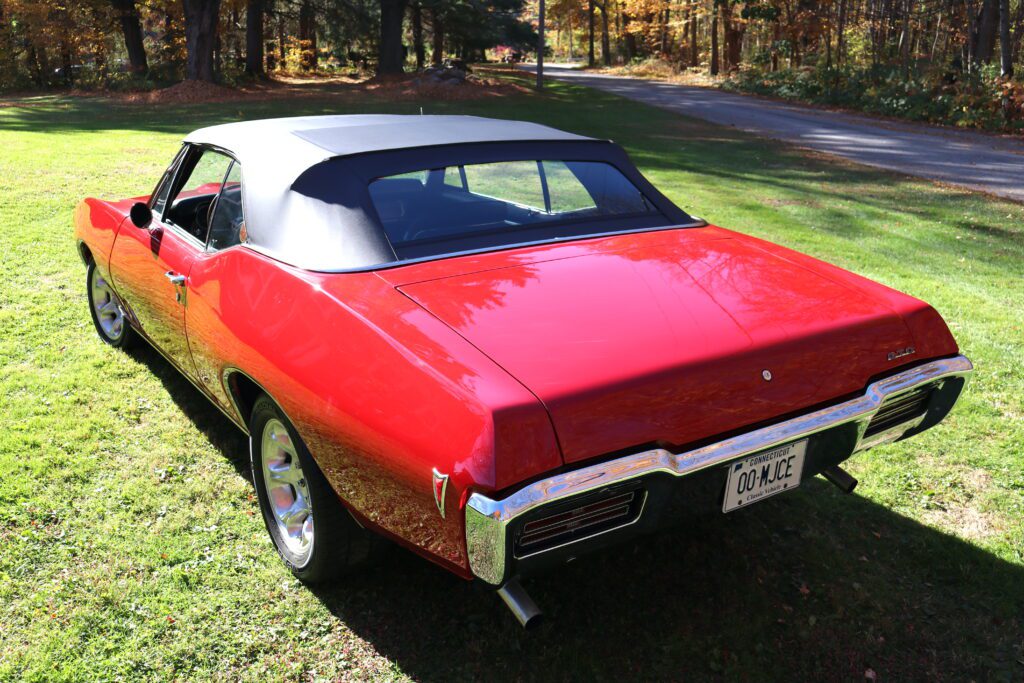 Unlike her current 1968 Pontiac GTO convertible with four-speed manual transmission that was parked on the lawn behind her, her first "Goat" had an automatic transmission to go with its 400-cubic-inch V8 engine. Long before "Goat" became an oft-used reference to the "Greatest of All Time," the word was affectionately applied to the GTO.
Henning shrugs, though, at the notion that her GTO made classmates jealous. "Back then we all had hot rod cars. My sister had a '68 (Pontiac) LeMans, friends of mine had a '68 (Ford) Mustang, so we all rode together."
Henning kept the GTO for maybe a half-dozen years. "I used it for my first wedding, for my first marriage, we used the car for that," she said. "I did have one accident with the first GTO. I was driving home doing about 15 miles an hour, waving to my neighbors and wasn't watching where I was going, and I hit their parked car on the side of the road."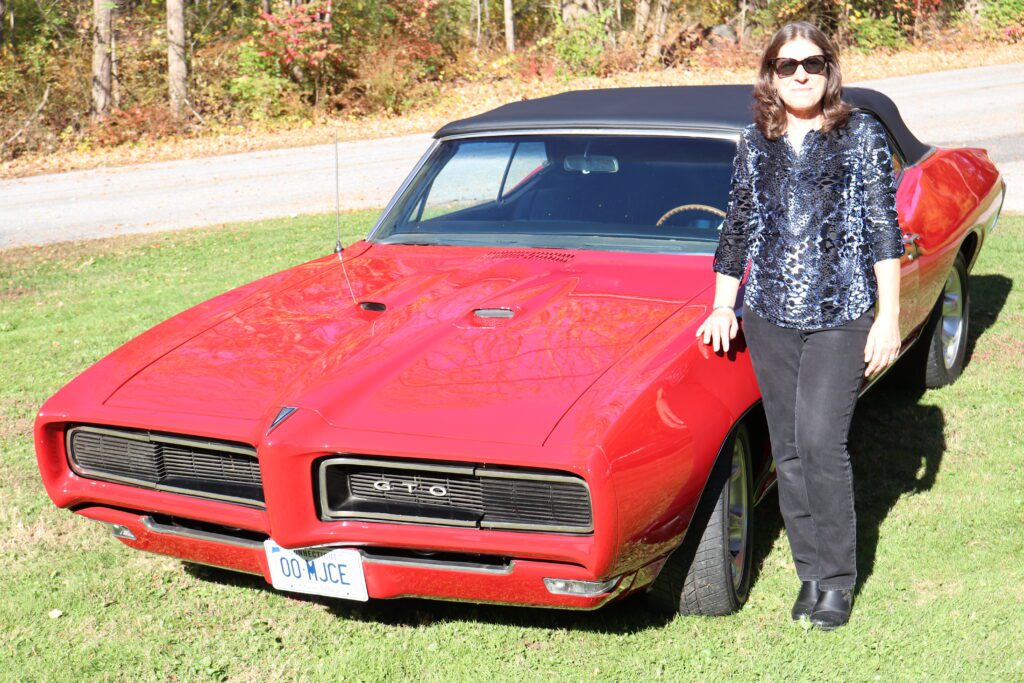 She only parted with the GTO in 1982 or '83 when her employer, Eastman Kodak, provided her with a company car. "I couldn't afford to keep the GTO and have the company car. It got a little expensive back then so I sold it. I've been looking for another GTO ever since, and then I found this one," said Henning of her bright red 1968 GTO convertible that she acquired five-plus years ago.
It was a mixture of timing and proximity that enabled her to get it. "I had found GTOs over the years, but I couldn't really afford 'em at the time, so this one came at a good time. It came in pieces so it wasn't that expensive 'cause we weren't sure what we had since it was in pieces," she said.
What makes her find so amazing is that it was located just footsteps away at her next-door neighbor's house. "My neighbor had the car in storage for about 30 years. He also drove his GTO during high school out of Woodbury and he had been restoring it for over 30 years," she said.
"He had it in his mother's garage and then he moved it to a portable tent right next door, so when we purchased our house we noticed he had a GTO in his tent that was fully in pieces that he had been doing a restoration on."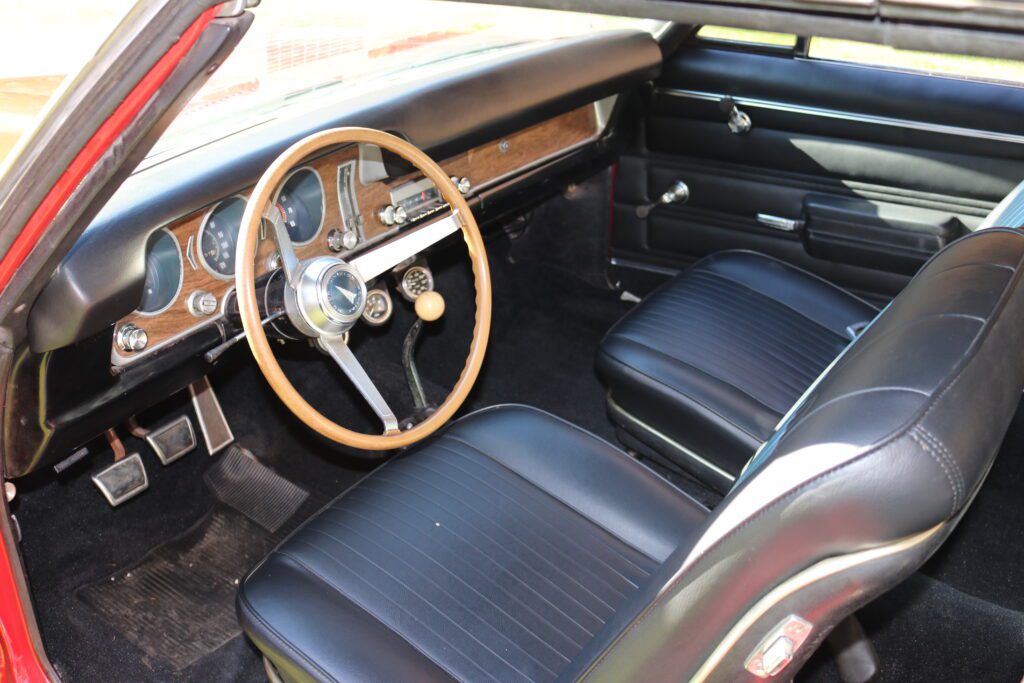 The GTO wasn't for sale when she moved in. "I had been poking him for seven years that if he ever wanted to sell it to let me know first, and then his father passed away and he ended up moving up to Maine to live with his mother and couldn't take the car with him so he came over and gave me first option to take the car," Henning said.
That was in the fall of 2017. "It was in really bad shape. The panels were in pretty good shape but the interior, the convertible top (had deteriorated), the engine was out, the transmission was out, so all the mechanical parts were in pieces."
Her husband, Glen Bowen, and his brother set to work on the engine and transmission. In the fall of 2018, the car went to a restorer to make it look like new and as quickly as possible. "I had waited so many years to get another GTO that I wasn't going to wait a couple of years for a restoration, or three years," Henning said.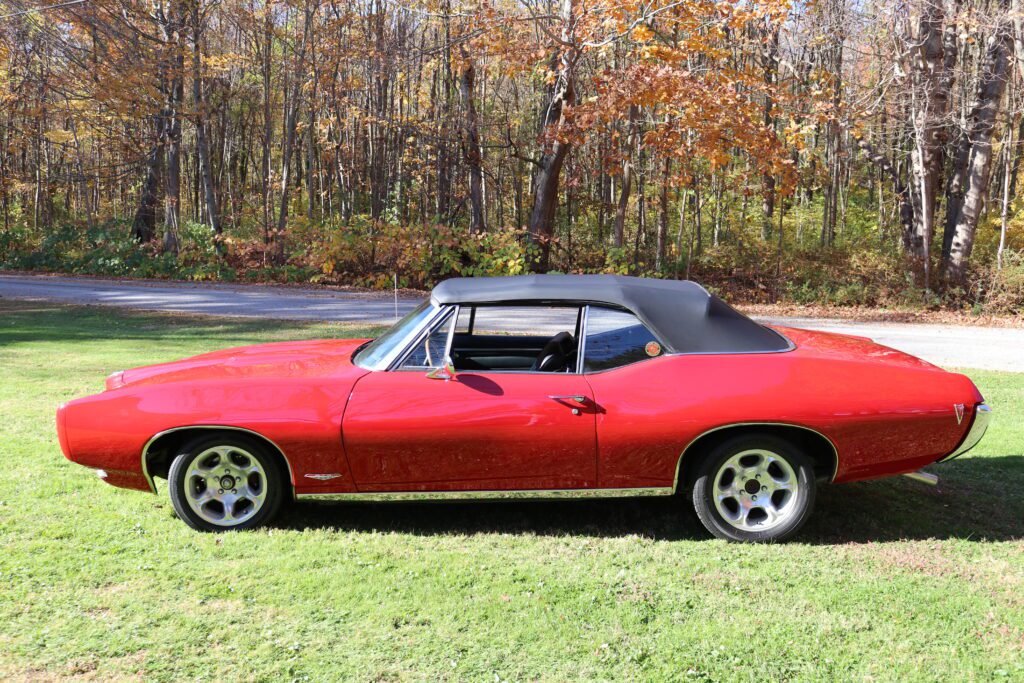 The job took only 14 months. Henning's reunion with a GTO has met her expectations. She loves its power. "With this one being a standard, when you kick it into second gear, I mean it just throws you right back in the seat and it takes off. It kicks and it takes off, and that's what my old car used to do. We used to race them up at the Oxford Airport years ago." 
Henning is fearful that the GTO might get damaged. Consequently, it isn't driven very often. "I love the car. We don't get to drive it as much as we'd like because I don't want to take it on the highway or take it too far. We just started taking it to car shows over the last year. We felt comfortable bringing it to car shows," she said.
"MotorTrend" magazine selected the 1968 GTO as its "Car of the Year" and nice examples of the convertible version are now selling for $60,000 or more. Henning's GTO is insured for $100,000 and her reticence in using it understandable. "It's a numbers matching car so it's also an investment as well as something that I enjoy," she said.
See the 1968 Pontiac GTO in action in this YouTube video…