TROY, MI – The quality of new motor vehicles is getting worse. Results of the latest J.D. Power Initial Quality Study released Thursday revealed that owners reported more problems for the third year in a row. New features and increased technology are largely the reason for the decline in quality.
Popular brands like Toyota and Ford and luxury brands such as Mercedes-Benz, Infiniti and Audi all ranked below average. Topping the quality chart were Dodge, Ram, Alfa Romeo, Buick and Chevrolet.
The 2023 study is based on responses from 93,380 owners and lessees of current model-year vehicles between February and May. This is the 37th year that J.D. Power has conducted the study.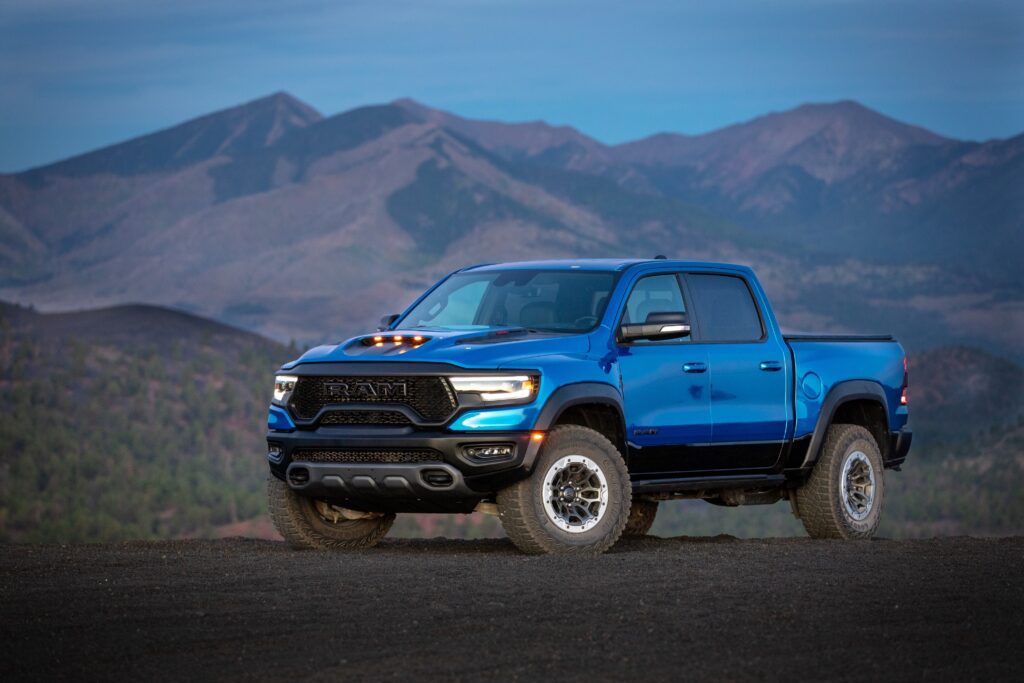 "The automotive industry is facing a wide range of quality problems, a phenomenon not seen in the 37-year history of the IQS," said Frank Hanley, senior director of auto benchmarking at J.D. Power.
 "The industry is at a major crossroad and the path each manufacturer chooses is paramount for its future. From persistent problems carrying over from years past to an increase in new types of problems, today's new vehicles are more complex – offering new and exciting technology – but not always satisfying owners."
J.D. Power said the number of problems per 100 vehicles has risen a record 30 PP100 over the past two years and that the 2023 results show a 12 PP100 rise over 2022.
Dodge was the highest-ranking brand with 140 PP100, followed by Ram with 141, Alfa Romeo with 143, Buick with 162 and Chevrolet with 166. The average score was 192 PP100.
EV builders Polestar and Tesla were at the bottom of the rankings. Polestar had 313 PP100 while Tesla had 257. Rounding out the bottom five brands were Volvo and Chrysler at 250 and Volkswagen at 149. Here's the full chart: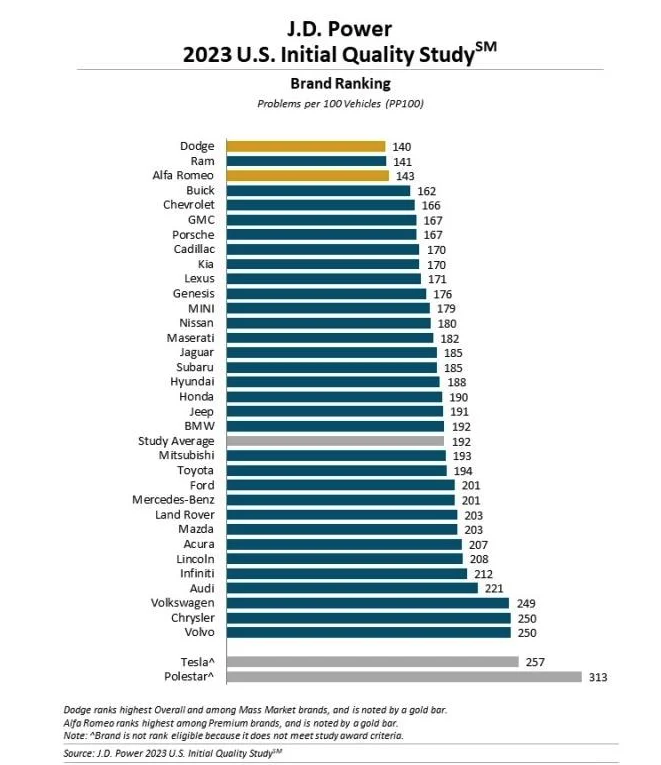 J.D. Power reported, "The continuing decline in quality can be attributed to multiple factors such as greater usage and penetration of technology; continued integration of known problematic audio systems into other new models; poor sounding horns; cupholders that don't serve their purpose; and new models with 11 PP100 more than carryover models."
Nissan's Maxima claimed the J.D. Powers crown as the model with the highest initial quality.
Highest ranking vehicles by category included:
Small car – Kia Rio
Small premium car – Audi A3
Compact car – Kia Forte
Compact premium car – Lexus IS
Compact sporty car – Mini Cooper
Midsize car – Toyota Camry
Midsize premium car -Kia Stinger
Midsize sporty car – Chevrolet Camaro
Upper midsize premium car – Genesis G80
Large premium car – BMW 8 Series
Premium sporty car – Chevrolet Corvette
Small SUV – Buick Encore GX
Small premium SUV – Audi Q3
Compact SUV – Chevrolet Equinox
Compact premium SUV – Al Romeo Stelvio
Midsize SUV – Nissan Murano
Midsize premium SUV – Lexus GX
Upper midsize SUV – Toyota 4Runner
Upper midsize premium SUV – Cadillac XT6
Large SUV – Chevrolet Tahoe
Large premium SUV – Cadillac Escalade
(Photos courtesy of Stellantis)