Car dealers usually take trade-ins and either sell them as used or unload them to be sold elsewhere. Modern Mazda in Thomaston took an imaginative different tack when determining the fate of a 2010 Mazda MX-5 Miata that it took in trade six months ago.
The two-seat convertible, bright red with an automatic transmission, had been owned since new by Paul Burinskas of Burlington. He traded it for a 2012 Miata, also in bright red and also with an automatic transmission, that had only about 7,000 miles on the odometer.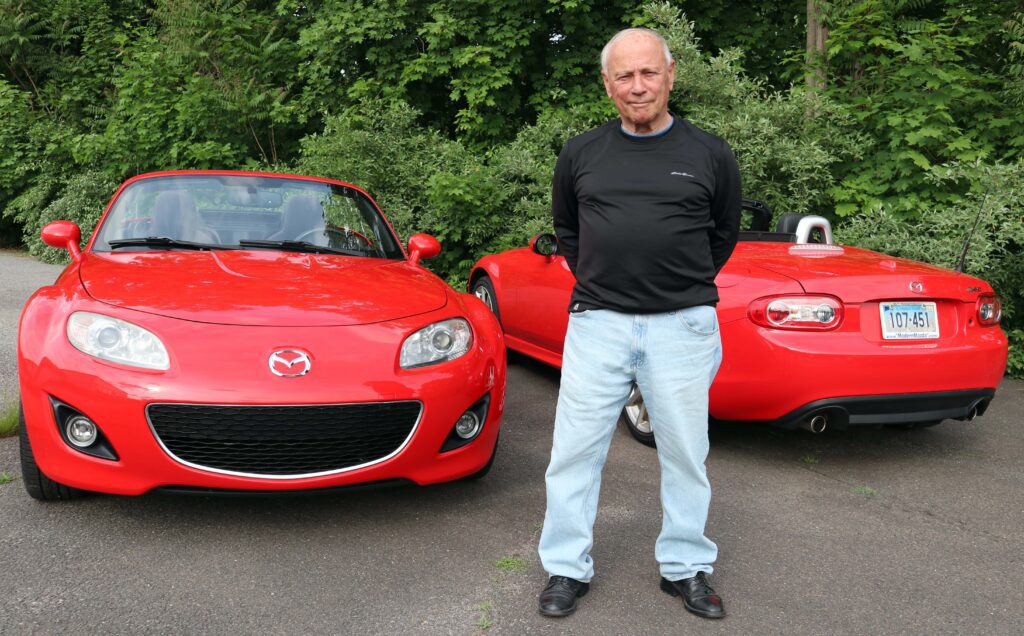 His reason for getting rid of the 2010 Miata, and the dealership's reason for doing what it did with the sports car, can also be traced to the car's mileage.
Burinskas drove the 2010 Miata nearly 376,000 miles. 
He did it in 12 years, putting on average of more than 31,000 miles annually.
Modern Mazda Gets Creative With Trade-In
What Modern Mazda did with the 2010 Miata was to turn it into a permanent showroom display. It's now a piece of automotive art, and sits just inside the front door of the store.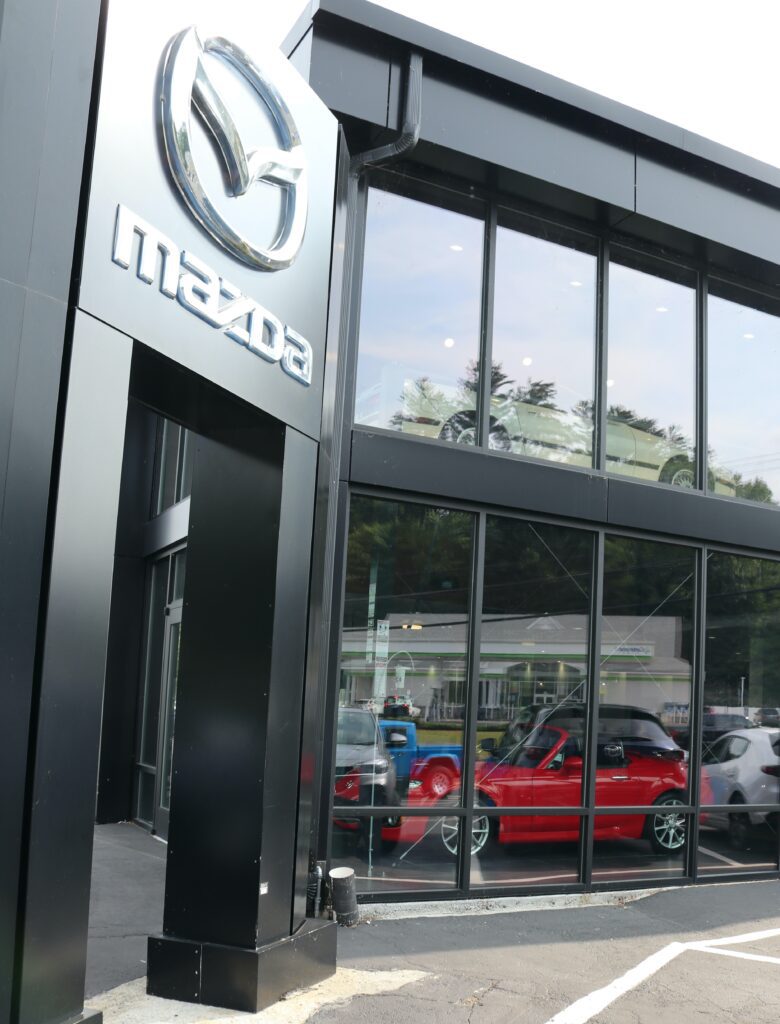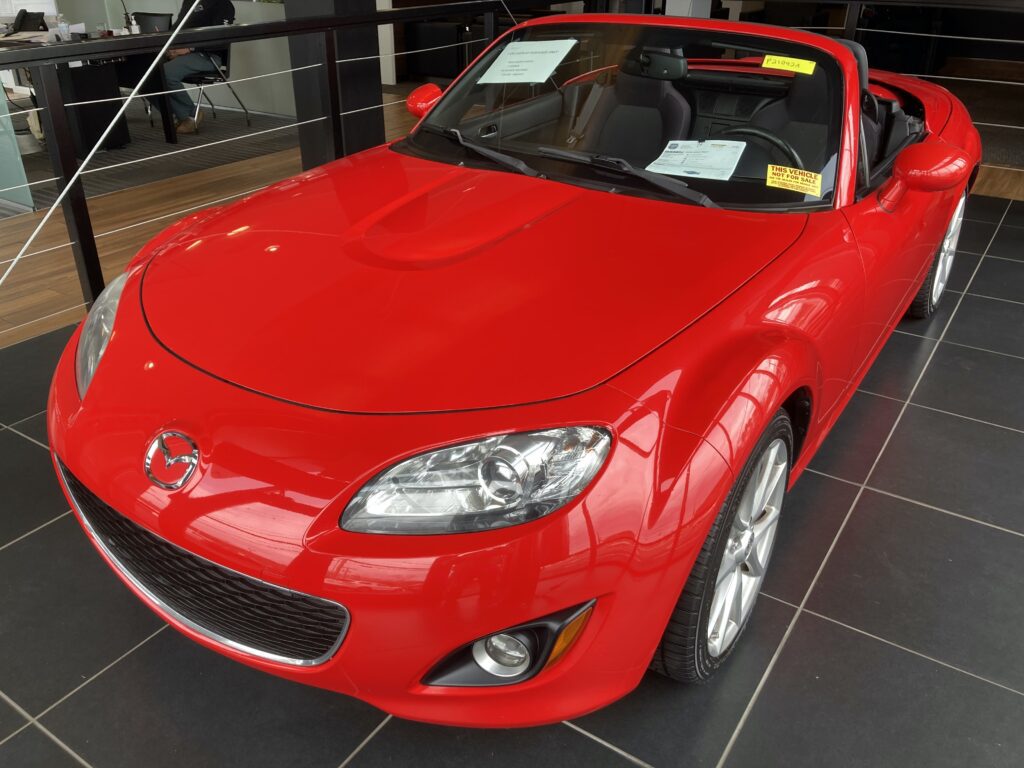 "I love it. When I have the 2012 serviced, I feel like a movie star. I feel like I'm some kind of celebrity coming in like 'That's my car in the showroom,'" said Burinskas earlier this week. "It's kind of a kick as I think it would be for anybody."
While a cynic might say that no new-car dealer would risk selling any used car with mileage that extraordinarily high, Modern Mazda general manager Daniel Grosso suggested that the promotional opportunity of touting the Miata was too good to pass up.
"Just seeing the Miata in the condition that it's in, and knowing the history of the car, and seeing Paul in for service every regular maintenance, we said it's just something that we got to show off," he said.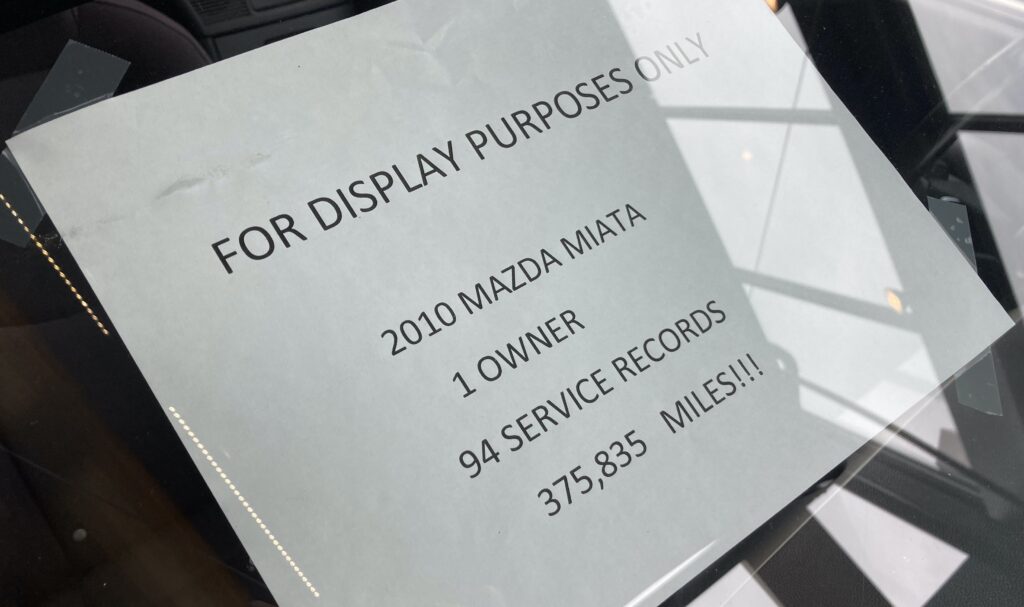 A card placed on the windshield of the Miata pinpoints the mileage at 375,835 miles and notes that "94 service records" are on file.The mileage figure was listed before Grosso put a dealer plate on the 2010 Miata, drove it out of the showroom and took it for a spin up to Harwinton for My Ride while Burinskas navigated his 2012 Miata. 
Burinskas Has Owned Four Miatas
Burinskas is longtime Miata enthusiast who also owns a 1975 Triumph Spitfire sports car that he takes to car shows. His current Miata is the fourth one that he's owned. 
He started with a first generation 1992 "NA" version, the original Miata with pop-up headlights that debuted in 1989 as a 1990 model, and replaced it with a 1999 "NB" version. The 2010 and 2012 Miatas are example of the third generation "NC" version. He prefers them all to the current fourth-generation "ND" model.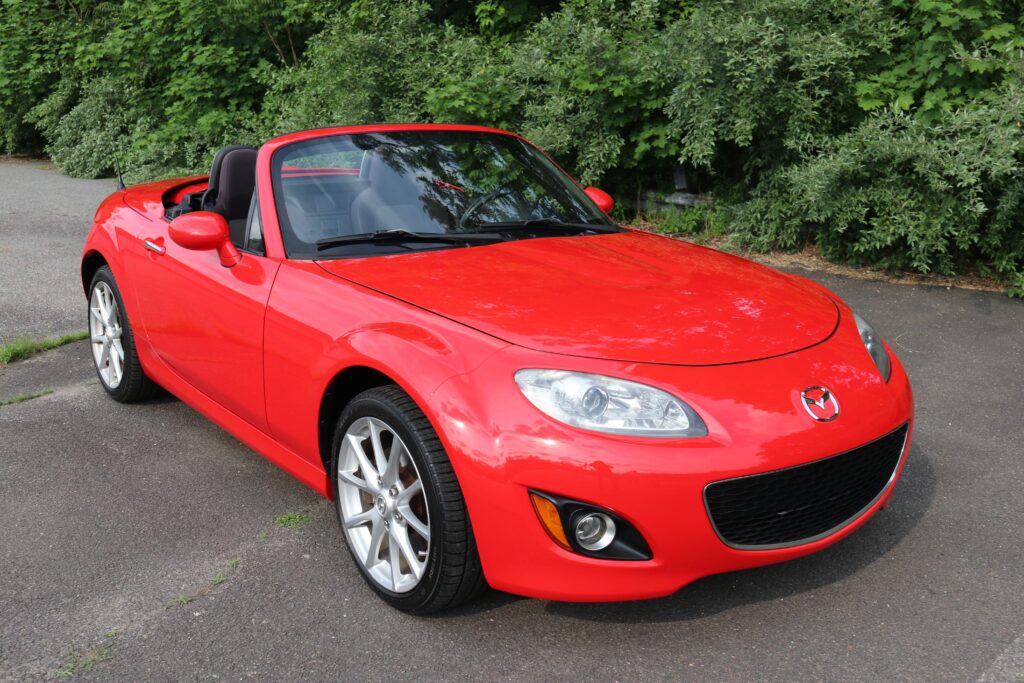 "They handle well. They're extremely reliable. They're fun. And because they don't break down a lot and they're not really an exotic sports car, they're reasonable to own," he said.
How Burinaskas racked up so many miles in a dozen years is easily explainable. "I teach at Southern (Connecticut State University) and the University of Hartford, so I'm going to New Haven and I'm going into Hartford, and I love pleasure driving as well," he said.
Burinskas calls the Miata a go-to car that he drives it all winter. "I have my top down every month of the year. In February, it gets really dicey." If the temperature is above 35 degrees, though, "the top goes down."
Replacement Miata Nearly The Same
That he was able to replace the 2010 Miata with a nearly identical 2012 amazes him more than the number of miles he put in the 2010. Modern Mazda got it from a couple shortly after Burinskas had his for service and was musing that it might be time for a change.
"The car just happened to present itself to the dealer. It's almost a miracle. They came in and said, 'We're relocating. We want to sell,' he said. The dealership immediately called him. "I looked at the car and I knew I wanted that car."
The 2012 Miata has a higher trim level with leather, a Bose sound system and heated seats. The exterior exhibits minor styling changes. Burinskas said he plans to keep this Miata even longer than its predecessor. 
"Great cornering, that's what they're known for, and modest cost to drive," he said, reporting that he gets 34 to 35 miles per gallon driving to New Haven. "The reliability of the Miata is just astounding. The value you get for what you pay is just unbeatable."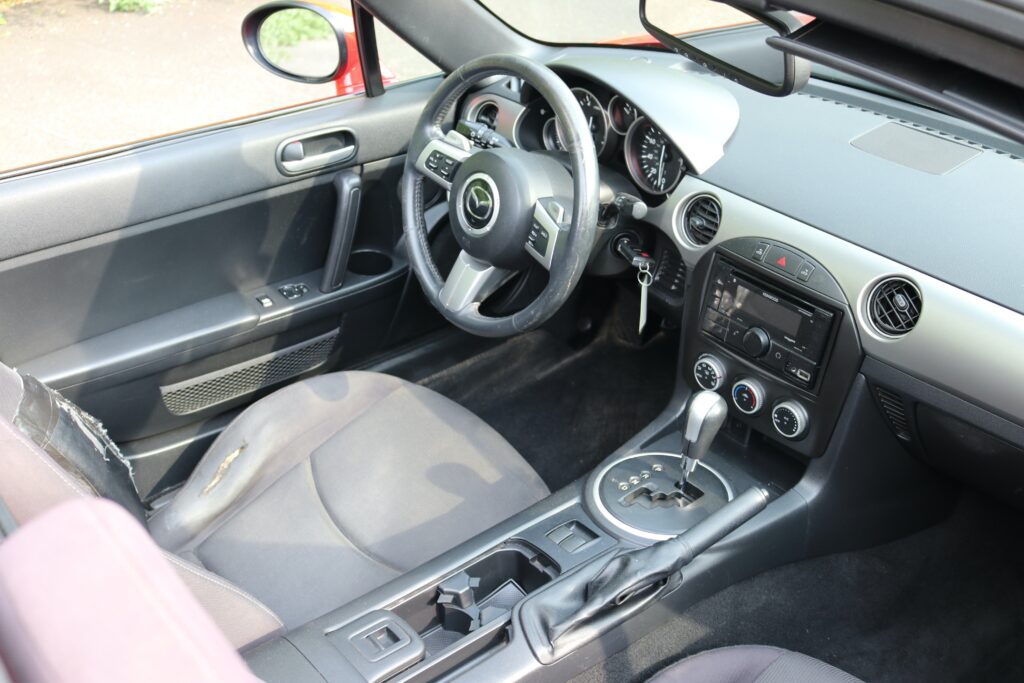 Grosso said he was surprised by the mileage displayed on the 2010 because so many Miata owners only use them on sunny days or on weekends, and park them for the winter. He agreed that they are reliable.
"To have a Miata come in with that many miles was just impressive; to see him driving it all year round, putting winter tires on it and just fighting the New England weather with it was amazing," Grosso said.
Did Anyone Notice The Switch?
Burinskas didn't create a stir when he drove home in the replacement 2012 Miata. How many neighbors noticed? 
"That's a really good question," he said. "Only one. She's 90 years old and she said, 'There's something that's different about your car.' Every other neighbor, not a word, but she knew something. She said, 'It looks lower.'"
See the two Miatas out on the road in this video from RIDE-CT's YouTube channel…